Homalco members visit historic masks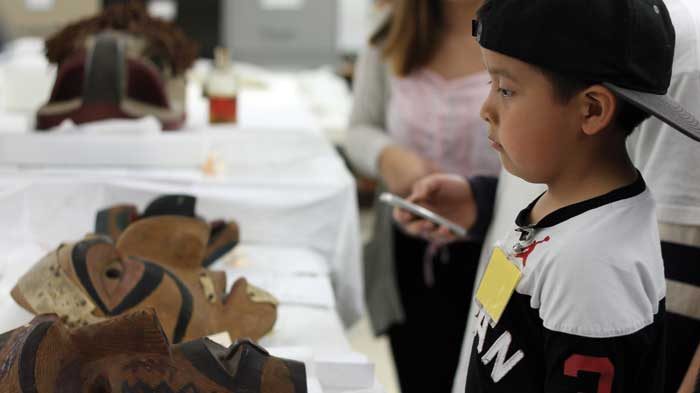 Photos and story by Todd Peacey, Homalco First Nation
In 2010, I discovered some Homalco First Nation-carved masks—said to be the oldest known existing masks from our community—were being housed at the Royal B.C. Museum in Victoria. The masks are believed to be from the late 1800s, carved by a Homalco man named Frank George. I viewed photos of them several times on the museum's website over the years and was excited to go and see them in person.
In mid-March, I was able to get a group of Homalco people together to go to the museum and see the masks. We traveled from Campbell River to Victoria to view these historical objects with a sense of curiosity and wonder. Thanks to the assistance from the Anthropology Collections Manager Brian Seymour, the entire visit was a success. Elders, children and everyone in between had a chance to see the masks in a private archive room of the museum.
The collection on display consisted of 11 masks and one large cedar weave basket. These are all of the items in the museum's archives that are known to have come from Homalco's territory. Homalco Councillor Kelsie Robinson sang our traditional Love Song from Church House in the presence of the masks, recognizing their importance to our culture.
It is told that many of the masks were designed after different races of people. That is fairly apparent, but over the years many of the masks have lost all or most of the hair which was used on them, leaving only a small piece of leather tacked onto the face.
That said, online views can only give you an idea of how these look, and to see the collection in person was a real treat. Some of the masks are very large in size and would have been very heavy for those who would have been wearing them.
We learned that the masks had been purchased from a collector who had been selling collections from different nations along the coast. The masks then were to be donated or on loan to the Royal B.C. Museum to ensure they would be properly cared for Homalco has only a few historical pieces and we are very limited compared to some other nations. Some of our other items are known to be on display in various places around the globe, making it difficult for our people to view them in person.
A few Homalco people are working hard to preserve and protect our traditional culture and values and hopefully 100 years from now there will be even more cultural items added to the collection for all to enjoy.