Our youth, our future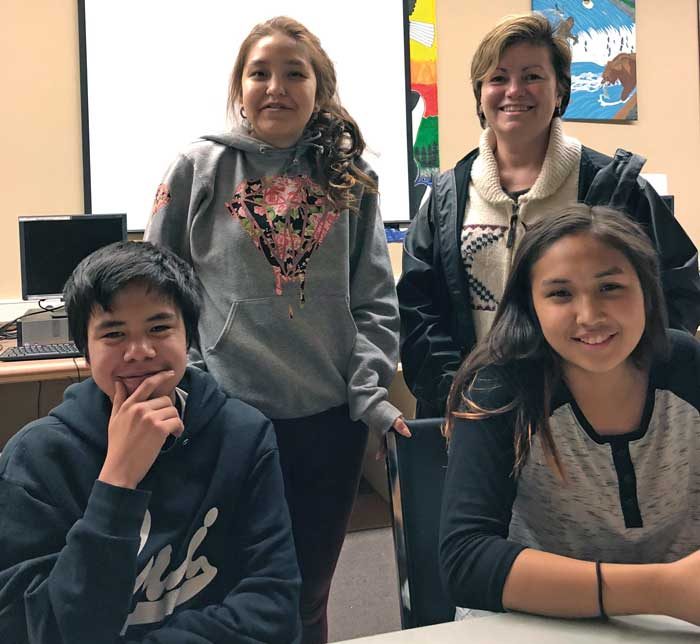 By Edith Moore, NmTC communications liaison
Last August, Naut'sa mawt Tribal Council held its second annual Youth Leadership Gathering in the Tla'amin territory.
Three dozen youth came and learned about drum making, creating traditional art, ceremony and games from their elders.
I was able to reconnect with three of the youth that attended the Youth Camp during a recent visit to Stz'uminus First Nation. Stz'uminus holds Youth Group every Monday, Wednesday, and Friday. The coordinators Shirley Louie and Shaun Crocker are in charge of keeping these inspiring youth busy.
When I spoke with youth Charlise Harris, Catherine Sampson and Blake Crocker, they shared with me the teachings they had learned at the camp that they still carry with them, such as having sacred baths in the morning, and reflecting on the meal time prayer that they learned in the Tla'amin language. They loved being able to travel and exploring new places. The keepsakes of baskets and drums that were made are still important to them.
This opportunity gave them a space and time to be themselves and learn from each other. When I asked if they would go again or recommend it to other youth, they nodded with excitement. I can see we helped to develop future leaders, and for this, I am so proud of the small part I played. Lets keep up the good work of encouraging our youth to be the best that they can be, and also continually teaching them of who they are.
Charlise, Catherine and Blake also have a message for all their friends from the Youth Camp: "We look forward to seeing you again and drumming and singing with you."