'Warrior women' honoured as MMIWG hearings close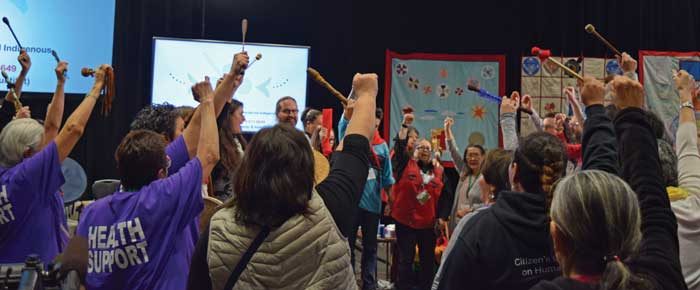 Indigenous women who have worked for decades for their sisters on the Downtown Eastside were gifted coppers at the end of the national MMIWG hearings.
Nearly 100 people signed up to testify during five days of the inquiry's final scheduled public hearing in Richmond.
After the last testimony was heard, dozens of women gathered to drum and sing the Women's Warrior Song.
At a larger closing event later that evening, a group of women were honoured with coppers on behalf of the commissioners for their years of work leading up to the inquiry, including Coast Salish activists Fay Blaney and Kelly White.
The coppers were carved by Haida artist and DTES frontline worker Skundaal Bernie Williams, who herself testified in the inquiry. She said she was taught as a little girl that copper is the highest gift that you can give.
"These are your warrior women from the Downtown Eastside," Williams said. "We'd like recognize and we'd like to honour their commitment to the work, and their tenacity through so many decades and sacrifices they have made throughout all these years."
Tsawwassen Chief Bryce Williams and Tsleil-Waututh Chief Maureen Thomas also spoke at the end of the hearings.
"I'd really like to acknowledge all those who came forward to share their stories, I commend you on your strength and your courage," Thomas said. "Your future children and grandchildren are hopefully going to have a better life because of what you're doing."
The event in Richmond was set to be the fifteenth and final hearing of the national inquiry, though commissioners have asked the federal government for a two-year extension. People drove many hours to get to the event to have their truths heard.
Tsleil-Waututh Elder Margaret George closed the event with a prayer, thanking all the families who stepped forward to tell their stories.
"By what the commissioners have said, they've heard your stories. They'll take your words and make it happen that you'll be heard," she said. "This has been a very difficult time for most of you and I really praise you for the courage that each and every one has had in coming forward to stand and voice your words."