Weekly program empowers girls at Malahat Nation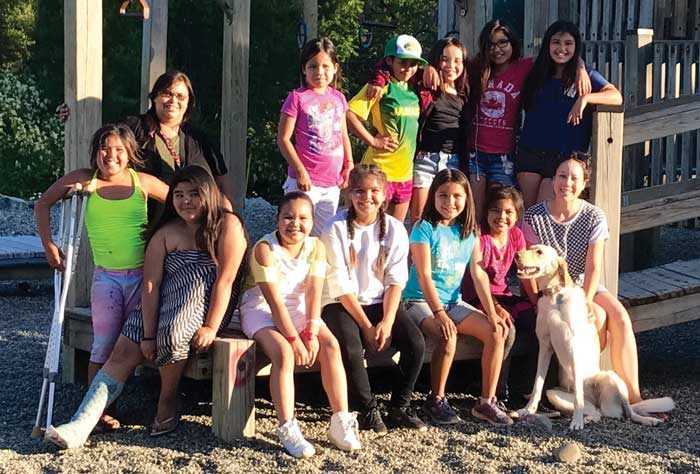 By Cara McKenna
A weekly group at Malahat Nation is empowering girls ages eight to 14 through culture, critical thinking, food and feminism.
The program called Circles of Care-Circles of Courage has been running each Thursday at Malahat for nearly two school years, and is set up to run for at least two more.
The group is the result of a partnership between the Canadian Mental Health Association and Malahat, with funding from the Canadian Women's Foundation.
There are about a dozen girls from the Malahat and Cowichan nations registered. During a session over Spring Break, the group was predictably smaller than usual, with just three girls in attendance.
Jessica Thom, a facilitator from the Canadian Mental Health Association who runs the program, said the group —though structured—has an organic element to it where it can easily adapt depending on the girls' needs and circumstances.
"It was started as a vision to really see how we can create a space that would support not only the girls from Malahat but also Cowichan and surrounding communities," Thom said.
"And how we could, within that space, help them to develop the skills and to nurture a perspective that's going to support them through the rest of their lives."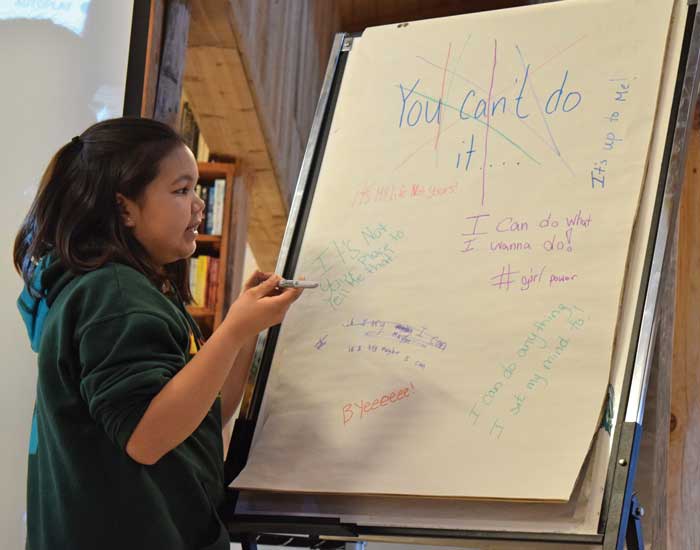 On a normal school week, Malahat Elder Jennifer Daniels—who co-hosts the group—will pick the girls up at their homes and bring them to the Kwunew Kwasun Cultural Centre where the group is held.
Daniels opens and closes the group with a prayer each week, and has helped to strengthen the girls' ties to their culture by including Coast Salish teachings, language and activities like weaving.
Though every week is different, they always share a meal together, Thom said.
"That it can take up most of the time," she said. "But I do think that the majority of the work that we do and the relationship is built around the food and the learning that comes from that."
During the group's session on the Thursday of Spring Break, the girls from Malahat—Eliana Harry, Amanda Harry and Shayna Douglas—shared conversation and laughs over a meal of lasagna, vegetables and fruit, before moving onto their weekly activity.
Sitting on a large shag rug on the floor, the girls were shown a short YouTube clip of Canada's first female astronaut Dr. Roberta Bondar speaking about how she pushed ahead even though she was told as a child that she couldn't do science.
The girls then brainstormed possible empowered responses to being told "you can't do it" and wrote them down, with their comebacks including: "I can do what I wanna do," "It's not your place to tell me that," and "byeee!"
Thom explained that the activity is part of the program's wider aim to support five foundational areas of development: resilience, critical thinking, self-confidence, connectedness and communication.
"For me, my focus and passion has been on looking at the concept of resiliency," she said. "What is it that we can do in this space to help foster that ability to overcome challenges? From a mental health perspective, more and more we're recognizing that's such an integral part of who we are."
Beth Malcolm of the Canadian Women's Foundation, who directs funding to Malahat and other girls' groups across the country, said what's called the "Girls' Fund" began in 2006.
Malahat's program is one of seven for Indigenous girls across the country, and one of 22 total.
"We have seen the impact (of the programs)," Malcolm said. "Just having a safe space to explore who you are as a person and how you connect in your community. It's remarkable what can happen when you create that space.
"Malcolm said it's impactful for Indigenous girls in particular, because they aren't seeing as many positive reflections of themselves in the media as other demographics."We're really wanting to fund programs that are helping girls to become more confident, have a greater sense of connectedness as well as enhancing their critical thinking skills," she said.
"They look different in every community because the programs are developed and designed by communities based on their needs."
In Malahat, the program has been so successful that the nation is now looking at setting up a similar group for boys from the nation.
"My hope is that spaces like this can exist in all the communities," Thom said. "I think we're all a little surprised at how simple it has been, and it really hasn't cost that much, and it's just been these simple key factors that have created this space with a bit of thoughtfulness and some resources."