Nations collaborate for 'Culture at the Centre' exhibit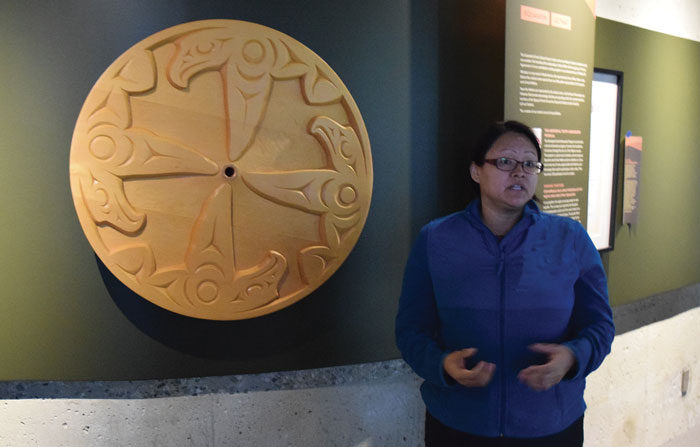 An exhibit on display at the Museum of Anthropology until October aims to educate on the work of five B.C. Indigenous cultural centres.
The Culture at the Centre exhibit brings the work of the distinct nations together, showcasing their unique cultures, languages and traditions while also relating their common goals around cultural preservation.
The exhibit is a collaboration between six First Nations—Musqueam, Squamish, Lil'wat, Heiltsuk, Nisga'a and Haida—and MOA.
MOA worked with curators from the nations' five cultural centres to put the display together.
Nika Collison, a curator from the Haida Gwaii Museum, said the bringing together of nations in a mainstream museum setting is "groundbreaking."
"I have been in the field of arts and heritage for 20 years," she said during an opening event in March. "I feel it's only been in the last five years that I've sat at a mainstream museum table with other Indigenous people. Our nations coming together is so exciting."
Jill Baird, a curator from MOA, said one of the goals of Culture at the Centre was to highlight the ideas of reconciliation and repatriation between communities and not just within a Western museum setting.
For the Squamish and Lil'wat nations, which share territory, that meant putting aside some of their differences to come together, explained Squamish Lil'wat Cultural Centre curator Alison Pascal (Mixalhíts̓a7).
One of the pieces on display is a spindle whorl carved by Tawx'sin-Yexwulla that was commissioned by Squamish-Lil'wat, and represents the two Salish communities coming together.
"We didn't feel right having a cultural centre without reaching out to the Squamish Nation," Pascal said. "We started working together on a cultural centre in 2005, and opened in 2008. That was so our two nations could be reintroduced together and we could learn how to work together before the doors opened."
Also on display is a landmark protocol agreement that was signed between the Musqueam, Squamish and Tsleil-Waututh Nations several years ago.
Morgan Guerin, a councillor with Musqueam, said the agreement has been key for the three communities who have been teaming up on various business ventures.
"We decided to be a family again," Guerin said. "We know where our boundaries are, we have always known where they are … we don't have to have anyone else tell us this. Otherwise it's not 33 per cent of something, it's 100 per cent of nothing."
Along with the significant objects from each of the participating nations, the exhibit also includes educational material such as territorial maps and images and video works from the communities.
Curators wanted to see each centre respond to the themes of land, language, continuity and reconciliation in their own way.
"The challenge and reward was found in coming together to determine some common themes, and finding ways to communicate the dynamic and different nature of these institutions,' said MOA curator Pam Brown. "All the centres share the values of culture and community being at the heart of what they do."
Culture at the Centre opened on March 18 and will be on display until Oct. 8.