Snuneymuxw VIU instructor teaches about resilience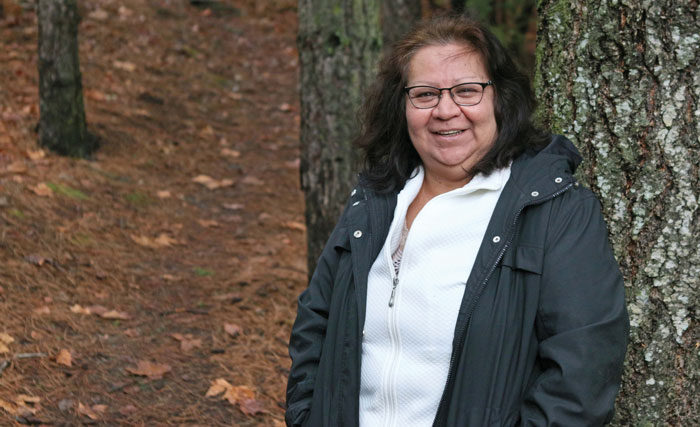 Many Canadian universities only began teaching students about the country's true dark history with Indigenous people in recent years, but Collette Jones (Tlpuhtunaat) is already one step ahead of that narrative.
When the Snuneymuxw academic started at Vancouver Island University as a sessional instructor this school year, she was asked to teach Indigenous perspectives that included a majority of history and colonialism—a class she formerly taught at the University of Victoria for six years.
But this time, she wanted to teach something more positive that advanced beyond the trauma and sadness.
"I told them if you want me to teach … I want to teach something that demonstrates the success of our people," she said during an interview at VIU's Indigenous Gathering Place. "Something that's happy and fulfilling. And that would probably be the resurgence of Indigenous women."
Jones began as a sessional instructor in VIU's Women and Gender Studies department last August, teaching a class around Indigenous women's strength and resilience.
The class involved bringing Indigenous women into the classroom to speak about their lives and culture to the class of largely non-Indigenous students.
Among the eight women brought into the classroom were Coast Salish cedar and blanket weavers, authors, drum makers, singers, a Métis artist and an expert on Coast Salish language revitalization.
"These women have really taken back their identity, their culture, their language and they do it through their community work," Jones said. "When you come to universities, you're going to learn all man's theory. But why is there no room for Indigenous knowledge there? That's what you're going to hear is our ways of knowing and doing in the courses I teach."
Jones said the course, which recently wrapped up, has been transformational for some students who previously hadn't learned about Canada's first people from an Indigenous perspective.
It has also been healing for Jones, who is a residential school survivor and has seen many changes during her decades as an Indigenous person in a Western education system.
"I've been so far removed from my culture, language, everything," she said.
Jones has had to move forward in order to get to where she is today, and in an unexpected way, her academic journey is now helping to reconnect her with aspects of her culture.
While teaching her class at VIU, Jones has been chipping away at her Ph.D. which focuses on Coast Salish ways of knowing in the classroom and involves interviewing elders-in-residence from post-secondary institutions on the Island.
"That's going to teach me at the same time, and that's going to strengthen Coast Salish ways of knowing at this level," she said. "I can look at my work and say, 'oh I've been doing this but I didn't realize that's what I was doing.'"
Jones said she's taking the next year to fully focus on her Ph.D., but then she plans to unleash everything she's learned to keep bringing Indigenous teachings and lessons around resiliency into university classrooms.
It's a powerful place to be as she has the ears of many future leaders.
"People just want the truth," she said. Jones teaches the Indigenous perspective and calls it as it is. She questions her students: "Will you continue to tiptoe through the tulips as Canada has for the past 150 years regarding Indigenous history or will you share with others around you what you have learned in this course?"
"I teach and work to get people out of their comfort zones; otherwise, they're going to be stuck. And that's what society is, they're stuck in how they view Indigenous people."
And besides challenging those perspectives, she also wants to empower the Indigenous students to take their rightful place at the table and to further their education to their highest potential. She encourages her students to go beyond certificates, diplomas, Bachelors, Masters and to aim high.
"It's still tough to be Indigenous at the universities," she said. "I tell the students: 'you've got to do your work (healing) and move forward … because you all need to have your rightful place in society on your own land. You must find your identity, your voice and get educated. There's just so much work to be done.'"