Moment in history: When Chief Dan George visited T'Sou-ke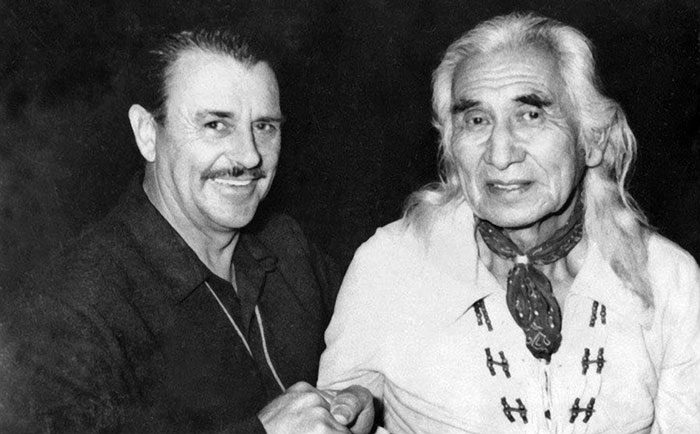 By Elida Peers, historian, Sooke Region Museum
Back in 1971, the Sooke Community Association hosted the Academy Award-nominated actor, Chief Dan George, the celebrated Chief of Tsleil-Waututh, who had become a public figure. He is shown here with Eric Michelsen, president of the association at the time.
The 1970s was a period when the Sooke Community Association was thriving and able to take a leading role in supporting and assisting community endeavours. It was a time when All Sooke Day, and the mini-logging show convention entertainment evenings at the Sooke Community Hall were in their heyday, and brought in sufficient funds to operate the hall, the Flats and also to help the community.
In that year, I was one of a dozen on the board of the association, and recall how thrilled we all were to be introduced to Chief George when he came to the entertainment and dance at the hall. The occasion was the convention of the B.C. Association of Non-Status Indians, held in Victoria. On convention entertainment evenings, bus after bus would head off from Victoria to the Sooke hall in the late afternoons, where guests would watch the salmon being barbecued on the racks, feast on the barbecue, and watch the loggers' sports show in the upstairs hall.
After the chopping and power sawing was done and the sawdust cleaned up, the guests would dance to a lively local band. These loggers' sports show events became quite famous and you could meet people travelling anywhere in the world that had come to the Sooke show.
On this occasion, I remember the celebrity chief dancing with Grannie Agnes George, from the T'Sou-ke Band, and we all felt they were having a great time, cutting the rug together.
Chief Dan George acted in theatres, in movies and television, and used his position to promote better under-standing between the cultures. In 1971 as well, he was made an Officer of the Order of Canada. Born in 1899, he passed away in 1981.
Those who watched the opening ceremony of the 2010 Winter Olympic Games in Vancouver may recall that a quotation from Chief Dan George's poetry was part of the ceremony:
"The beauty of the trees
The softness of the air,The fragrance of the grass,
Speaks to me
And my heart soars."
This article originally appeared in the Sooke News Mirror and is reprinted here with permission and minor edits.