Indigenizing education: Hul'qumi'num gathering held on Vancouver Island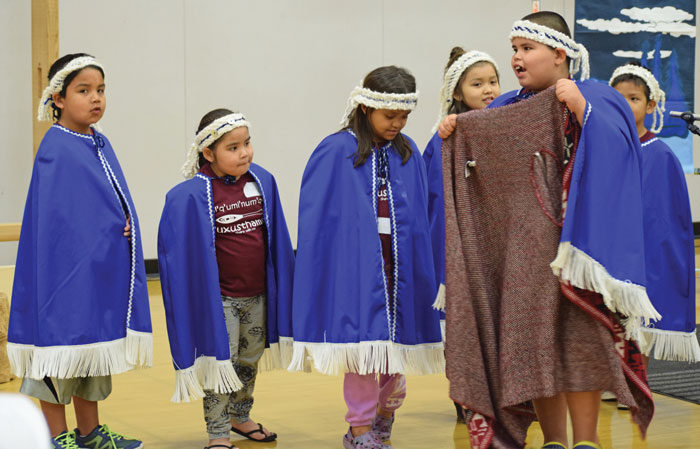 Photos and story by Cara McKenna
An annual Hul'qumi'num language event on Vancouver Island grew substantially this year as area schools aim to educate K-12 students about Coast Salish culture.
The t'uxusthumpsh Indigenous language symposium brought together students, teachers,
elders and other knowledge holders for two days of Hul'qumi'num-related events.
T'uxusthumpsh, meaning "share with me," was organized by Nanaimo-Ladysmith Public Schools, the Cowichan Valley School District, Vancouver Island University and the B.C. Ministry of Education.
The symposium took place on May 29 and 30th in Snuneymuxw and Stz'uminus territory.
The event was previously a one-day Hul'qumi'num speaking competition for students in area school districts called "Spuptitul."
But Anne Tenning of the Nanaimo-Ladysmith school district said this year the event's organizers decided to take away the competition element and to grow the event.
"This is our biggest student language gathering ever," said Tenning, who is the district's vice principal in Aboriginal education and a member of Stz'uminus First Nation.
On the first day of the symposium, 250 Indigenous and non-Indigenous students gathered at Ladysmith Secondary School to share stories, songs and words in Hul'qumi'num.
On day two, a conference event took place in Nanaimo where educators from various school districts came together to learn from Indigenous language teachers, local elders, and each other.
At the student language showcase, Snaw-naw-as member Lawrence Mitchell (Ćumqwa:tun) watched proudly as students, including his 11-year-old daughter, sang songs and told stories in Hul'qumi'num.
"This is very beautiful," he said.
Mitchell has been working with the Nanaimo-Ladysmith school district on their efforts to Indigenize the curriculum.
Besides teaching Hul'qumi'num, students have been learning about Coast Salish weaving, interviewing elders, doing reconciliation-focused exercises and more.
For Mitchell, who wasn't able to celebrate his Coast Salish culture growing up, it is especially meaningful to see such impactful changes within just one generation.
"A long time ago this district had a rough patch in my life and now that I'm back here older, it's actually lifting me up and healing me," he said. "One of the things that I'm really happy about is that the people of this time and this era are opening their hearts and minds … because that lifts us up and that lets us know that we matter."
The work has been able to blossom thanks to B.C.-wide curriculum requirements implemented in 2016 that require a greater focus on Indigenous history and culture.
In Nanaimo-Ladysmith, there are now four fulltime Hul'qumi'num teachers, and one part-timer, who together are able to reach three quarters of schools in the district.
Adam Manson of Snuneymuxw, who started teaching the language in September, said students have been eager to learn.
"It's been amazing," he said. "When I walk into a classroom, they're all sitting there very respectfully. I take one look at them and say, 'wow, you're sitting like this, I can teach you anything.'"
Organizers of t'uxusthumpsh hope that feedback from the symposium will allow schools to do even more to uplift Indigenous languages, most of which are in dire straits in B.C. after the devastating impact of residential schools.
Tenning said decolonizing an education system that previously contributed to the erasure of Indigenous culture is no easy task.
"It's challenging when most of us came through a K-12 system where local culture and language wasn't present," said Tenning. "But we're trying to do this in a really big way, not just pockets of learning here and there, but how can we influence (the system) as a whole?"
But Mitchell said he is hopeful for the future generations, because they are hungry to keep learning more.
"It's feeding something in a different way to Indigenous and non-Indigenous (students)," he said. "They keep wanting more and we're trying to do our best to make sure that we get to share more."