Susan Point honoured with 2018 Audain Prize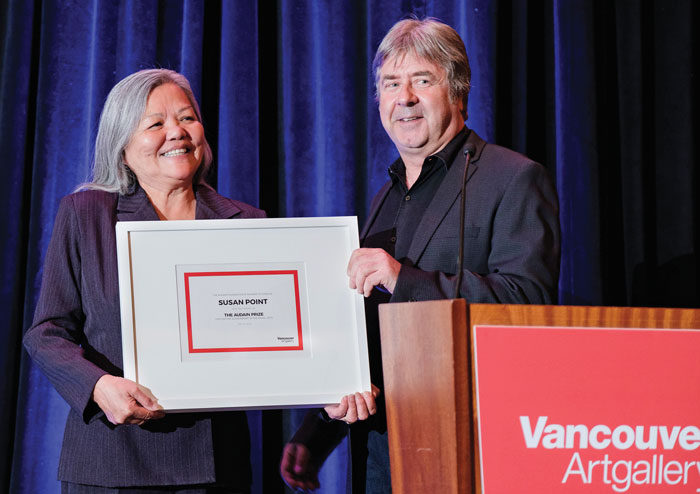 Musqueam artist Susan Point has been honoured with a lifetime achievement award for her ongoing impact and influence on contemporary Coast Salish art.
Point was presented with the 2018 Audain Prize for Lifetime Achievement in the Visual Arts during an event in downtown Vancouver on May 24.
The prestigious annual award is supported by the Audain Foundation and grants $30,000 to a senior B.C. artist who is selected by an independent jury.
Guests at the award ceremony heard how Point has shaped and revitalized Coast Salish artmaking during her 38-year career.
Grant Arnold, the Audain curator of B.C. art at the Vancouver Art Gallery, spoke of how Coast Salish artwork only recently had a resurgence after being systemically suppressed by colonization and in favour of the more widely-known formline style of the Northwest Coast.
"Susan was one of the few Coast Salish artists producing work in the early 1980s and she's played a crucial role in the resurgence of contemporary Coast Salish art-making," he said. "She has continually pushed traditional boundaries in her desire to articulate Coast Salish culture."
Point started out making jewelry, and over the years moved on to creating larger scale pieces using a variety of materials including glass, resin, concrete, paper and wood.
At first Point was not recognized for her art because she pushed the boundaries of tradition—at the start of her career it was considered unusual for a woman to carve as it was an activity largely done by men.
Her use of bright colours was also questioned because Coast Salish art was typically uncoloured, and skepticism increased when she started working with non-traditional materials such as glass, Arnold explained.
But Point's contemporary style has now became widely acclaimed and is the benchmark for other Coast Salish artists. She is particularly known for her many public commissions that
include welcoming figures in the Vancouver airport and cast iron spindle whorl sewer covers.
When she accepted her award, Point said she is grateful every day to create professional artwork in her contemporary Coast Salish style.
"It's a way for me to share my stories," she said. "It's been a lifelong journey, and a very special one as it has kept my family working very closely together."
Point is the daughter of Edna Grant and Anthony Point, and the niece of Dominic Point and Mike Kew. She said her family passed along the Musqueam stories that continue to influence her artwork, and she is now passing that on to the next generations.
"I believe you can't make an artist an artist, it's … within you," she said in a video that was played before she accepted her award. "To leave behind all of this is something for my grandchildren to carry on in the future, that's what I hope."