Coast Salish names given to two Vancouver plazas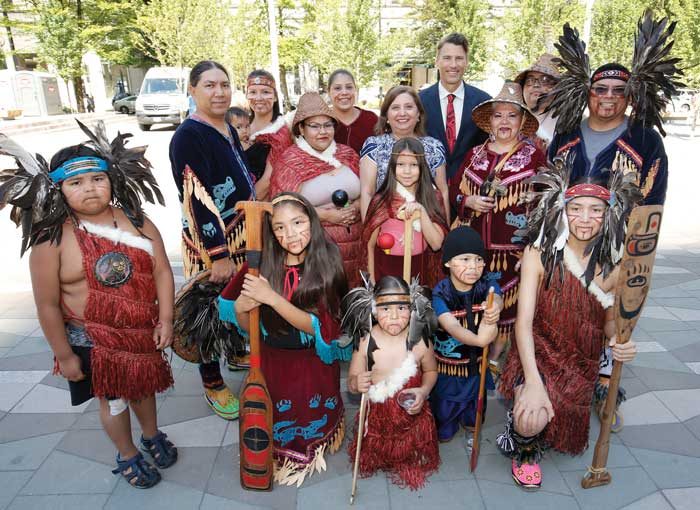 Photo courtesy of City of Vancouver
Two popular downtown Vancouver plazas have new Coast Salish names after a ceremony led by Stz'uminus Elder Ray Harris on June 18.
The former Queen Elizabeth Theatre Plaza is now called šxʷƛ̓exən Xwtl'a7shn and the Vancouver Art Gallery north plaza is now called šxʷƛ̓ənəq Xwtl'e7énḵ Square.
The new names combine both the hən̓q̓əmin̓əm̓ and Sḵwx̱wú7mesh languages as a way to honour all three nations whose land Vancouver is on.
A committee featuring Musqueam, Tsleil-Waututh and Squamish representatives worked to choose titles for the plazas. City council decided to rename the spaces as part of its larger goal to become a "city of reconciliation."
Khelsilem, a Squamish councillor and language teacher, said supporting and celebrating local Indigenous languages will make the city a better place.
"It's about setting things right but also creating a different future that's celebrating our diversity and our strength," he said in a city-created video.
"I think there really is an opportunity for us to be something better than we are right now."
Gabriel George, Tsleil-Waututh's language and culture manager, added that it's important for residents to learn the new names.
"I think it's important for people to realize that there's a deep memory here and it goes back thousands of years before there was any skyscrapers or concrete," he said. "My late grandfather talked about going hunting on the trail that's called Robson Street today, and hunting for elk not far from (what's now the Queen Elizabeth Theatre)."
šxʷƛ̓exən Xwtl'a7shn, the new name for Queen Elizabeth Theatre Plaza, refers to a place one is invited to and a place one is invited to celebrate. It's connected to past use of the square as a gathering place for the annual Walk for Reconciliation.
šxʷƛ̓ənəq Xwtl'e7énḵ Square, the new name for the north art gallery plaza, refers to a place where a cultural gathering – such as a wedding, funeral or coming of age ceremony – takes place.
City staff are now working with the three nations on sign designs for each of the plazas, which are expected to be completed by fall.
More information, as well as pronunciation guides for the new plaza names, can be found at https://vancouver.ca/people-programs/city-of-reconciliation.aspx.