Homalco woman expert witness in MMIWG hearings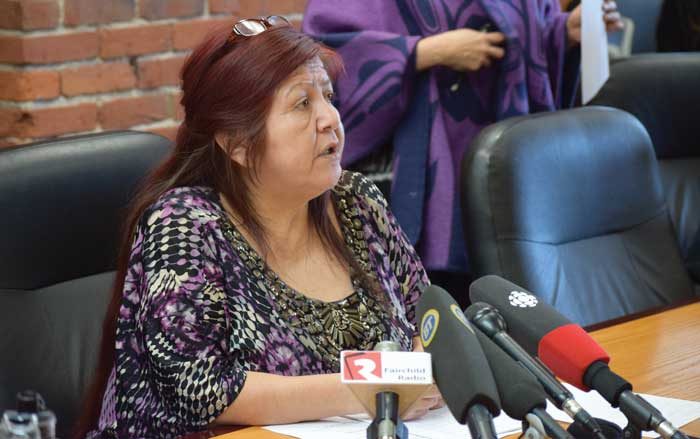 Homalco member Fay Blaney has been travelling across Canada to give expert testimony in ongoing hearings for the National Inquiry into Missing and Murdered Indigenous Women and Girls.
The inquiry held four multi-day hearings in May and June that focused on issues that included racism, human rights, policing and government services.
The Institutional and Expert Panel Hearings were the inquiry's next step after its Community Hearings for family members and survivors.
Blaney, who is a longtime advocate for Indigenous women, represented Vancouver's Aboriginal Women's Action Network as a knowledge keeper and witness at the events.
"I think it was a huge coup that I got in," she said. "It was due to a huge amount of support from across the country from women's groups that were calling for me. I was so pleased."
Blaney has been working with Indigenous women on the Downtown Eastside for almost three decades.
She has also been outspoken in calling for the inquiry to recognize the misogyny and colonialism that's at the root of the issue of MMIWG.
When the inquiry began, Blaney was concerned that gendered analysis was being left out. Now, she said, she still has her hesitations, but feels more inclined to support the process.
"It's still hard to keep the perspective on (feminist) issues," she said. "They really go down this other track."
She said the hearings were a "very legal process" that involved her sitting on a panel where she was asked questions, and asking questions to key figures on other panels including the leaders of police forces.
"There's legal counsel who are asking you questions so it's not like you get to do a presentation, it's very much the legal counsel setting the direction of where it's going," she said.
The Aboriginal Women's Action Network is now working on a report that will be handed in as one of the final submissions to commissioners.
The inquiry is now set to wrap up on April 30, 2019, after a six-month extension was granted by the federal government.
More information about the hearings including video of the events is available at www.mmiwg-ffada.ca.