Blanketing the city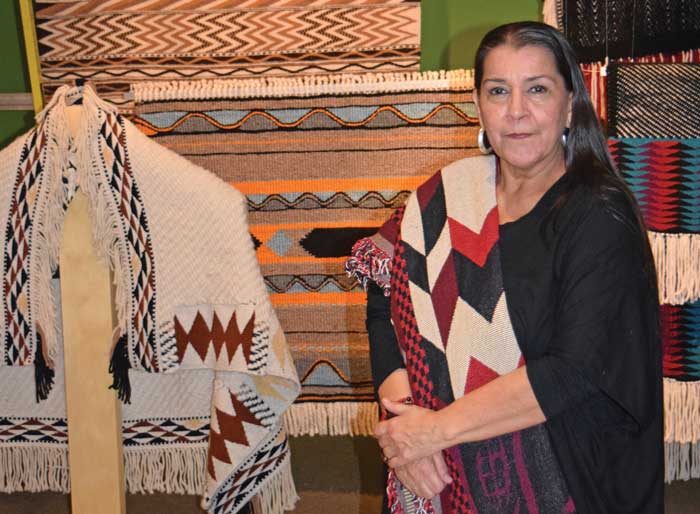 By Cara McKenna
Musqueam artist Debra Sparrow (θəliχʷəlʷət) has been saying for two decades that she won't stop until the City of Vancouver is blanketed in Coast Salish designs.
Mostly, Sparrow has meant the statement as a challenge to increase visibility of her nation's artwork in public spaces.
But now, she is literally "Blanketing the City"—the weaver and graphic designer has been working on a three-part series of large-scale contemporary murals inspired by Coast Salish textiles.
"I (first) said that about 20 years ago, and I didn't know how it would unfold, or if it would," Sparrow said. "I'm happy, because in talking about wrapping the City of Vancouver in the blankets—that's happening."
Sparrow's Blanketing the City series is in partnership with the annual Vancouver Mural Festival and will consist of three murals in different highly-visible public areas.
The first mural was revealed in May on two large pillars of the Granville Street Bridge near the Granville Island Public Market.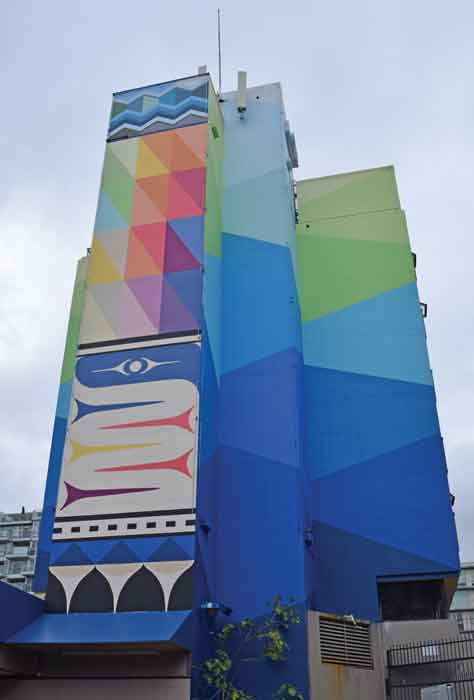 The next covers the side of a building on Kingsway Street in East Vancouver, and was being created during the annual Mural Festival in August.
A third mural and another smaller piece are still being planned.
Sparrow said the second and latest mural is dedicated to the earth and Salish Sea, and is meant to serve as a reminder to respect the land.
She said she and Gabriel Hall, a designer who she worked with on the piece, looked at the mountains and sky overlooking the building to find inspiration for the mural's bright, natural colour scheme.
"Patterns are sort of universal, they're related to our natural environment," she said. "That's why this mural is dedicated to the land, the water, the trees. Right now we need to honour our earth because we've been disrespecting it for a long time."
Sparrow said even though Vancouver is on the unceded territories of the Musqueam, Squamish and Tsleil-Waututh Nations, local Indigenous artwork isn't often visible in public city spaces.
"I have been going out on behalf of our chief for two years to do welcomes…and I always ask the Vancouver people: 'Who are you?'" she said. "When you go to any other country you look for art that reflects that history and culture. We should be celebrating this culture."
Sparrow is one of Musqueam's prominent weavers, along with her two sisters Robin and Wendy. But she is primarily a graphic designer—one of her most well-known projects was when she worked with Nike to design Team Canada's 2010 Olympic hockey jerseys.
She said the mural project is a good way to combine weaving with design and give her community's culture a contemporary platform.
The weaving patterns, she added, have an intellectual, mathematical element behind the designs, and she's excited to showcase that on a large scale. She said all Indigenous people can feel proud to see the pieces.
"These beautiful designs are representative of all Salish people, and it's inclusive to all our
territories," she said.
Ultimately, she hopes that the murals will "put softening behind our crazy world," she said. She wants the pieces to draw passers-by to a better place.
"We have to learn in our world today instead of calling people down we have to lift them up," Sparrow said.
More information about the project can be found at www.vanmuralfest.ca.