Remembering Ellen White: Knowledge keeper, educator, activist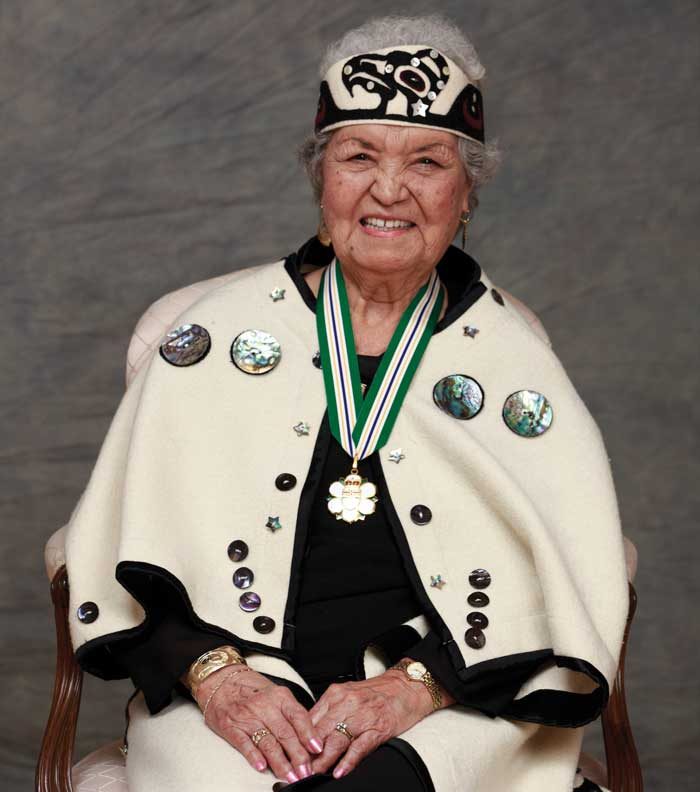 The public is being asked to carry on the work of a late Snuneymuxw elder who spent her life educating others and building bridges between communities.
The Indigenous and non-Indigenous communities continue to mourn the loss of Dr. Ellen White (Kwulasulwut), who died on August 7 at 95 years old.
Her funeral was held on August 11 at the Beban Park Social Centre in Nanaimo. At the memorial, White's friend Les Malbon delivered her eulogy, referencing the elder's Snuneymuxw name Kwulasulwut which means "many stars."
Malbon said he could "see the many stars," as he looked out at the crowd, according to the Nanaimo News Bulletin.
"I see how she impacted the community. I see how much she loved her family," he said.
White was born in 1922 into a Coast Salish family with ties on both sides of the Canadian-American border.
By school age, she lived on Rice Island (now known as Norway Island) and Kuper Island (now known as Penelakut).
Even though the notorious Kuper Island Residential School was established near her home, White was not allowed to attend because she was born outside of Canada and lacked Indian status.
So her grandmother Xalanamut (Mary Rice) told her at the time, "If you can't go to their school, you will go to my school," according to White's official obituary.
It was then that White and 13 of her cousins received their education in the Coast Salish snawayalth (sacred teachings).
White learned about healing, traditional midwifery, language and much more.
She was the last living member of that group trained in the traditional way, and passed those teachings along to her family and community.
In 1978, White received a diploma in Languages, Arts and Education from the University of Victoria and wrote one of the first English-Hulquminum dictionaries.
She was also considered an expert in Indigenous law, and used her knowledge to fight for affordable housing for her people, Indigenous women's rights and much more.
In her later years, she continued to pass teachings along an Elder-in-Residence at Vancouver Island University and the University of British Columbia.
In 2006, she was awarded an Honorary Doctorate of Laws by VIU, and was inducted into the Order of British Columbia in 2011.
In 2016, she was inducted as a member of the Order of Canada for her work as an elder and community leader.
She is survived by her five children, 10 grandchildren and 12 great-grandchildren.
Her eldest child, Doug White II, said in a statement that people should remember his mother by reflecting on how to advance understanding and respect between people regardless of their backgrounds.
"Throughout her 95 years, Ellen exemplified the greatest respect and love for all peoples, living things, and creation," he said. "We can all honour her memory by carrying on her work of close to a century of cultivating love, learning, respect, and harmony in human relations."