Gala goes beyond fashion to empower youth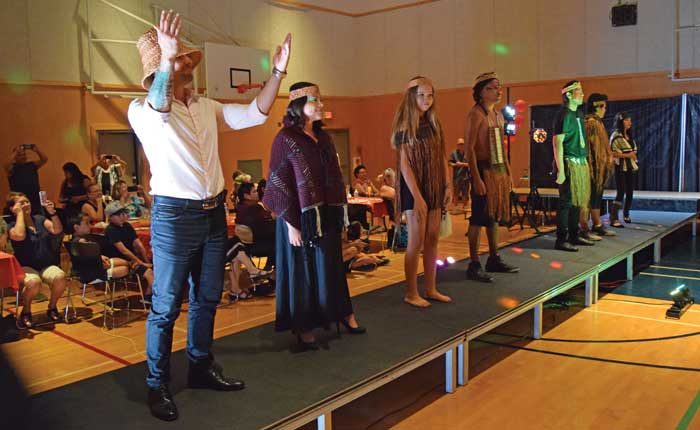 Indigenous youth walked the runway during a successful fashion gala at Tsleil-Waututh Nation that will return to the community in years to come.
The first annual Tsleil-Waututh Nation Fashion Gala was hosted at the community's gym in late July, with a formal dinner and fashion showcase that featured Indigenous designers and models.
The event was planned in just a couple months, but was so successful that organizers are already planning to bring the event back each summer.
Community member Jen Thomas said the idea for the event happened during a garage sale in May.
She said she and other organizers saw a young community member light up when she tried on a dress and realized that a fashion show would be a good way to uplift youth.
"My niece who is 13 was trying on my older niece's dress, and she just happened to walk by in front of us halfway across the gym," Thomas said. "And we just said 'we should do a fashion show for our youth.'"
Soon after, Thomas, Elisha Williams and Terena Hunt decided to start planning. The next day, they set a date for the gala.
Hunt said it was a huge learning experience because none of them had planned anything like that before.
"I think that for us even though we got tired and had late nights, we got to see (the young peoples') smiles and their spirits shine every single time we did something and that kept us going," she said.
At the gala, about a dozen youth models began the show wearing contemporary clothing from Indigenous fashion designers Chloë Angus, Mia Hunt, Tyler-Alan Jacobs and Alicia and Craig Stephens.
The youth then modelled handmade regalia by TWN Chief Maureen Thomas (Si'lhe-Ma'elWut) and Councillor Deanna George (Halat/Tewalewet).
As a surprise, TWN elders closed the show by walking the catwalk in regalia of their own, strutting their stuff to songs that included "I'm Too Sexy" by Right Hand Fred.
The event was also streamed live so that others would have the opportunity to watch from afar.
Chief Thomas said even though the event was a fashion gala, it went beyond beautiful clothing to highlight the models' inner beauty.
"I think it's more important than just fashion," she said. "You get to see our children, you get to see them in a different light, and they are the most beautiful people."
Hunt said she teared up seeing the youth walking the runway, because the event was really about self-esteem and self-empowerment.
"In this day and age we talk about bullying and we talk about issues like suicide and self-esteem, but what are we really doing about it?" she said. "I think it's about taking those issues and addressing them in every single way that you have the power to do that."