RDN unveils last of five Coast Salish art pieces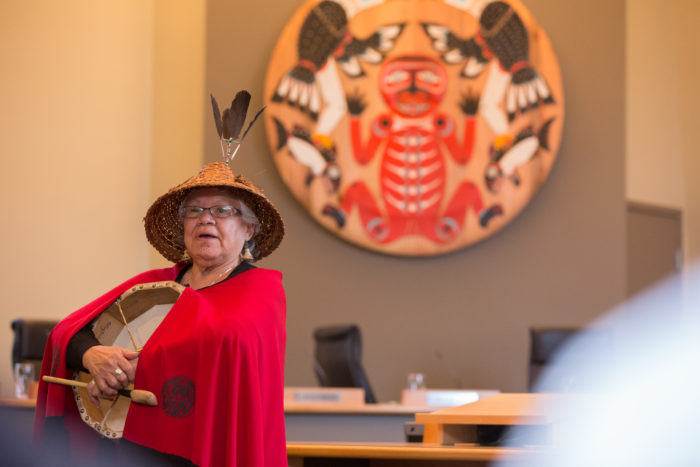 Snuneymuxw Elder Lolly Good speaks in front of the spindle whorl by carver William Good. Photos courtesy of RDN.
The Regional District of Nanaimo has unveiled the last of five pieces of Coast Salish artwork that were commissioned for its boardroom and lobby.
In 2017, the district selected artists from the Snuneymuxw, Snaw-naw-as and Qualicum nations to create works for its headquarters on Hammond Bay Road.
On May 30, a ceremony was held to reveal the final piece, a spindle whorl by Snuneymuxw carver William Good (Tseskinakhen) called Supernatural Eagle Bringing the Salmon to the People.
The first four pieces were unveiled in October of 2018: Q'ul-lhanamucum (Killer Whale) by Noel Brown of Snuneymuxw, Ling Cod by Brian Bob of Snaw-naw-as, Heron Spindle Whorl by Jesse Recalma of Qualicum, and Killer Whale, Thunderbird, Salmon by James Johnny and James Johnny Jr. of Snuneymuxw.
During the event to unveil Good's spindle whorl prior to the RDN's board meeting, people heard from the artist's daughter Aunalee, who spoke about how the piece symbolizes community and hope.
RDN Chairman Ian Thorpe said the art pieces will serve as visual stories of the people and history of the land where the board's work is done.
"We are pleased and honoured to have these inspiring art pieces in our administration building," he said in a news release.
"Our board is committed to continuing to work on building positive relationships in the region, sharing community values of inclusion and collaboration."