Klahoose hosts second annual 'Awaken the Canoes' event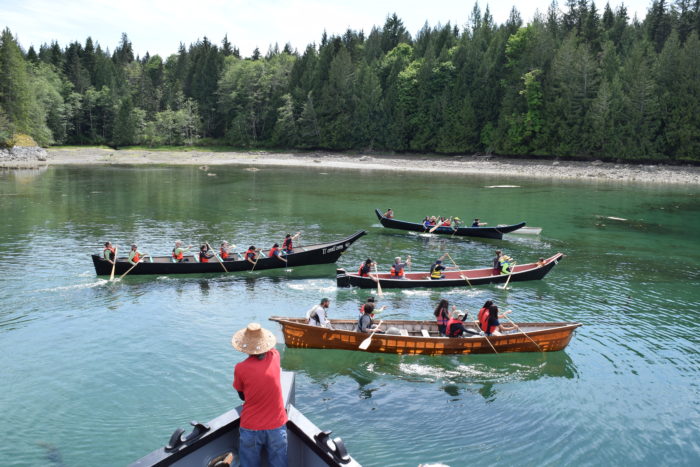 Klahoose hosted its second annual canoe safety training event this spring, as pullers prepare to make the journey to Lummi for this year's Tribal Journeys.
Awaken the Canoes (ti:ǰit nuxʷɛɬ) involved a couple dozen pullers coming together at the nation on Cortes Island over May long weekend.
Building on last year's successful event, participants took part in safety drills, racing and even practiced the crews' emergency response by tipping their canoes.
Canadian Coast Guard and RCMP officers were on hand in nearby boats to oversee the training.
Jodi Simkin, Klahoose's director of cultural affairs and heritage, conceptualized the safety event after working as the director of Tribal Journeys two years ago.
While serving in that role, she noticed that, in general, the U.S. pullers were much more well-versed in safety than Canadian ones.
"All of the (U.S.) canoes receive cold water training and deep water training before the season begins," she said. "It's the very first thing that they do." 
This year, Klahoose brought in canoe safety experts Ron Snyder, an experienced long-distance puller from Washington, and Jeff Smith of the Macah nation who is working on rewriting the Tribal Journeys safety handbook.
Snyder gave a talk and demonstration in Klahoose's admin building, providing a no-nonsense approach to safety training, before pullers took to the water.
Snyder wears a metal ring hung around his neck, which he says is part of a "full circle journey" initiative, centered in the U.S., that represents a commitment to safety on the water. His necklace includes 15 beads, each representing a journey where he was either a canoe skipper or safety boat skipper.
"Canoe journeys can take place in a safe way, a powerful way, a culturally significant way, and can be an important glue for binding people together," he explained.
"There are now 7,000 pullers who wear this ring."
During his talk, Snyder talked about the importance of teamwork, paddling as one, staying calm and not rushing to meet unsafe deadlines — especially during poor conditions.
Simkin said the safety reminders and training are especially important this year, as a crew from Klahoose prepares to paddle to Lummi Nation in Washington State.
"So that's a few hundred miles away from here," she said.
"We're the farthest canoe leaving from the inside, from our own shores. It's a big journey."
Klahoose Coun. Michelle Robinson said the Awaken the Canoes event has been part of a wider cultural push that has brought the nation, and its surrounding sister nations, together.
Along with the strengthened canoe culture, Klahoose has been hosting weekly culture nights for the past couple of years.
Even just a year ago, members struggled to sing its own songs without guidance from Tla'amin.
"Now they lead it, they're very powerful and strong in it, and it's all driven by the canoe culture," Robinson said.