K'ómoks moves forward in treaty process with new agreement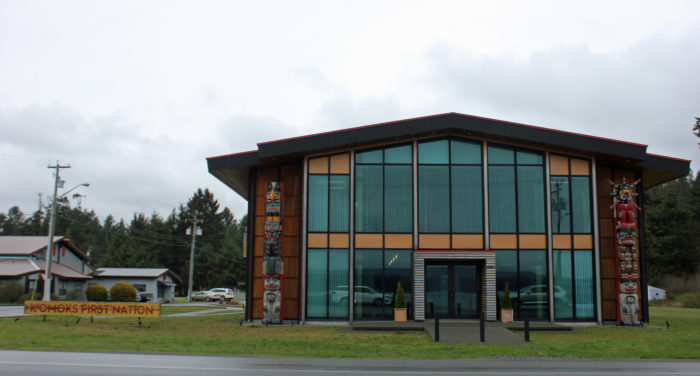 K'ómoks First Nation has made another step towards finalizing its treaty by signing a new agreement with B.C. and Canada.
The recently-signed K'ómoks First Nation Treaty Revitalization Agreement was announced in a joint media release from B.C. and Canada on Sept. 4.
The document represents an agreement by all three parties to move forward on discussions, with a goal for K'ómoks to complete the final stage of its treaty process within the next two years.
K'ómoks Hegus Nicole Rempel said the document will hold all parties involved accountable to finish the negotiations within the designated timeframe.
"We are optimistic this will catalyze the future success of a better treaty for our nation," she said in a statement.
The five-page agreement also outlines critical priorities and issues identified by K'ómoks, and a commitment to address them.
Some of the priorities featured in the agreement include reaching final land and cash settlements, an interest in securing 50,000 cubic metres of long-term forest tenure, and water and sewer infrastructure for parts of the community.
There is also a section in the document outlining a commitment to consult with neighbouring Indigenous groups.
Scott Fraser, B.C.'s minister of Indigenous relations and reconciliation, said the government's approach to treaties is changing and the negotiations with K'ómoks reflect that.
B.C., Canada and the First Nations Summit rolled out a new "rights-based" approach to the BC Treaty Process on Sept. 5.
"We're taking a new approach to treaty-making to ensure treaties can evolve over time and respect the principles of the United Nations Declaration on the Rights of Indigenous Peoples," Fraser said.
According to a media release from Canada, the new approach more explicitly recognizes inherent Indigenous rights and is more flexible to evolve with changing circumstances over time.
"A central feature of the B.C.-specific policy is basing negotiations on the recognition and continuation of rights without those rights being modified, surrendered or extinguished when a treaty is signed," the release states.
The B.C.-specific treaty negotiation process was first created in 1992, and 11 First Nations have since reached modern treaties, while 28 communities are in the advanced stages of negotiation.
K'ómoks First Nation is now in Stage 5 of its treaty negotiation process — the final stage before an agreement is reached and implemented.
Leaders of the Comox Valley-based community previously signed a Framework Agreement in 2008 and an Agreement-in-Principle in March of 2012.