Honouring Our Aboriginal Veterans
THUNDERBIRD REMEMBRANCE

They Volunteered To Serve The Nation

They Fought To Preserve Our Freedom

They Gave Their Youth, Life, and Limb

We Will Always Remember Them
By Tricia Thomas
On November 8, communities across the country will honour and thank Aboriginal veterans for their many contributions to Canada during wars and peacekeeping activities.
Even though they were not considered citizens of Canada, Aboriginal participation in past wars "was proportionately higher than that of any other group of people" according to Veterans Affairs Canada.
It estimates that one in three able-bodied Aboriginal men enlisted in the First World War and more than 7,000 'Status Indians' fought in the two world wars. Some say that number would be closer to 12,000 if those without status were included.
Aboriginal men and women fought alongside the military even before Canada existed – from the Battle of the Plains of Abraham in 1759 and the War of 1812 to the two World Wars and those in Korea, Vietnam and Afghanistan. And that's not to mention those who served with peacekeeping forces in places like Egypt and Cyprus.
But stories of bravery are offset by other stories of Aboriginal veterans returning home and being refused pension and other benefits given to non-native veterans.
Small Nation, Big Service
Tsleil-Waututh Nation in North Vancouver is remembering its veterans this month. Some are still with us, others passed on in decades past and some died as young men in the field of battle.
---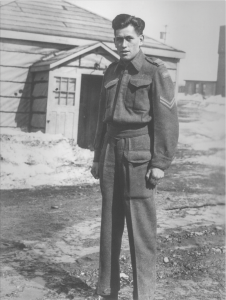 Sergeant Reginald Dominic (1920- 1945) volunteered at the age of 21 in 1941. He served with the Royal Canadian Army Service Corps in England, France and Holland and was killed in the line of duty in 1945. He was the son of Alexander Dominic and Louisa George (Thomas). Louisa is the daughter of Joseph Thomas and grand-daughter of Katherine, who was the sister to Chief James. His siblings are: Sally Paul (Dominic) Jimmy George, Thomas George, Lorraine George, Helen Batt (George) and Paul George, Arthur George.
---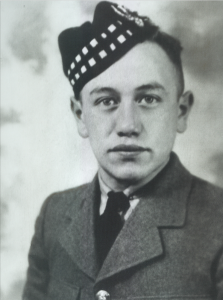 Private Edward Ange (1923-1944) was the youngest child of Chene Ange and Alphonsine Virag (nee George). He served with the Canadian Scottish Regiment and was a motorcycle dispatcher. He was killed in action.
---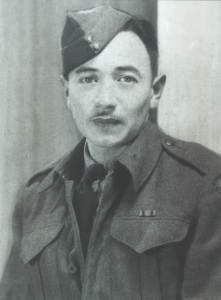 Private Oliver Ange (1920-1990) was the fourth child of Chene Ange and Alphonsine Virag (George).Alphonsine is the third daughter of Chief George and Annie George. He served with the New Westminster Regiment of the Canadian Army Infantry Corps and passed away in 1990.
---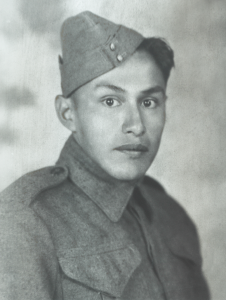 Private William Thomas (1918-1963) was the fourth child of Samson Thomas and Susan Long (George). He volunteered at the age of 24 in 1942 and served with the Sherbrook 27th Armoured Division in France, Holland and Germany. He was awarded the Croix de Guerre in 1947, the highest military award for gallantry in action, along with the Crimson Star. The inscription read: "For exceptional service rendered during the war for the liberation of France." As a tank gunner, he saved a number of Allied tanks that were trapped in a Normandy orchard.
---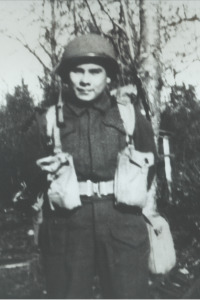 Private Lorne Thomas (born 1925) is the fourth child of Felix and Maude Thomas (Nahanee).Felix Thomas is the son of Joseph Thomas and grandson of Katherine, who is the sister to Chief James. He was drafted in May 1944 and served with the Canadian Scottish Regiment in England, Holland and Germany. He was discharged in May 1946, having spent all his time in Europe.Lorne is survived by his wife Patricia Baker-Thomas.  His children are: Diane, Calvin, Lorne, late Nancy, Peggy and Scott.  He has many grand-children as well as his brother Stan Thomas.  Lorne has many nieces, nephews and cousins.  He is predeceased by brothers Steve, Leslie and Joe Thomas and sisters Claire Sisson, Iris Wakelin and Dolly George.
---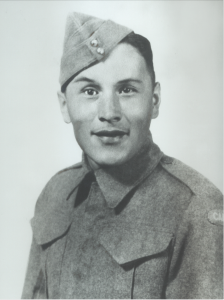 Private Lawrence Jack (1912-1990) was the son of Andre Jack and Madeline(Mayah) Jack (George).Mayah is the oldest daughter of Chief George & Annie George. Larry volunteered at the age of 29 in 1939.  He served with the Westminster Regiment in England, France, Belgium, Holland, Germany, Italy and North Africa.  He fought mostly in the Italian campaigns.  He was then with the Fifth Canadian Division under the Eighth British Army.  In one battle, his regiment fought over 40 days on the front line.  He was awarded 6 medals. Lawrence Jacks daughters are Jacqueline Jack-Point and Beverly Jack-Peters.  He passed away in 1990 and is survived by long time companion Joyce Joe, along with grand-children, great grand-children and many nieces and nephews.
If you wish to have an Aboriginal Veteran to be placed on the Honour list, email jeffrey1@vcn.bc.ca.   Visit http://canadianaboriginalveterans.ca/