Standing Rock leader to B.C.: 'now is the time to change the world'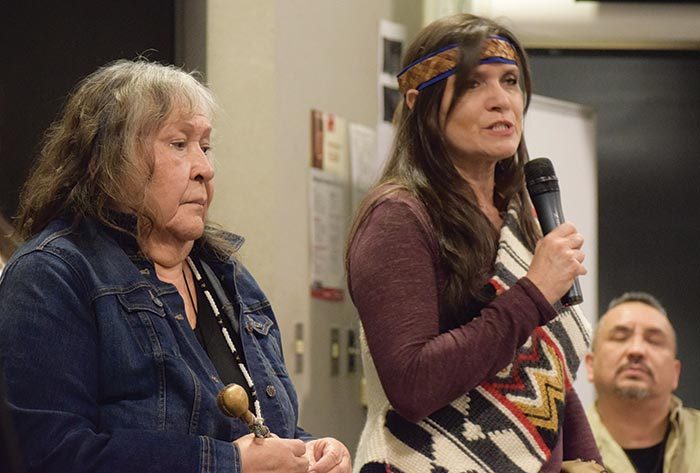 When LaDonna Brave Bull Allard founded the first resistance camp against the Dakota Access pipeline last year, she never imagined it would grow into the massive movement that it did.
She was only trying to protect her son's grave from being damaged by the pipeline.
Now, Allard believes Standing Rock was something of prophecy: a training point to teach people from across the world of all cultures to stand up stronger.
"This movement, whatever it is, is just beginning," she said. "Our next step is to unify; everyone, everywhere. I think something greater than ourselves is happening here."
Allard spoke during a weekend of events in Vancouver from March 24-26, during which Indigenous land defenders—mostly women—from across Turtle Island gathered to discuss mobilization strategies.
Though Allard had to speak over Skype from North Dakota, leaders from various nations from Northern B.C. to New Brunswick attended the events in person.
On the opening night of events, hundreds of people gathered at Simon Fraser University, overflowing from the main lecture hall, to hear talks from the panel of land defenders.
Tsleil-Waututh elder Amy George opened the events, speaking about the local fight against Kinder Morgan.
"I'm so happy to see so many people here tonight," she said. "There comes a time in your life when you want to stand for something. We're just not here to exist."
Kanahus Manuel of Secwepemc Women's Warrior Society spoke of how there isn't really a government process to say 'no' to development projects on native land – only one to say 'yes,' which is dangerous for those trying to protect their territories.
Others noted that it's always been Indigenous women on the front lines, while Cecilia Point of Musqueam held up her hands to land defenders everywhere.
"It takes a lot of strength but it also gives you a lot of strength," she said. "I think for land defenders it's a calling. You're called, you can't help it, you have to go and protect."
Allard said land defenders worldwide are facing a similar struggle.
"There has never been anything like this, but we are now talking to each other, standing with each other," she said. "Everything that we have inside us tells us that this is the time to change the world."