Tsleil-Waututh holds water blessing ceremony on Mother's Day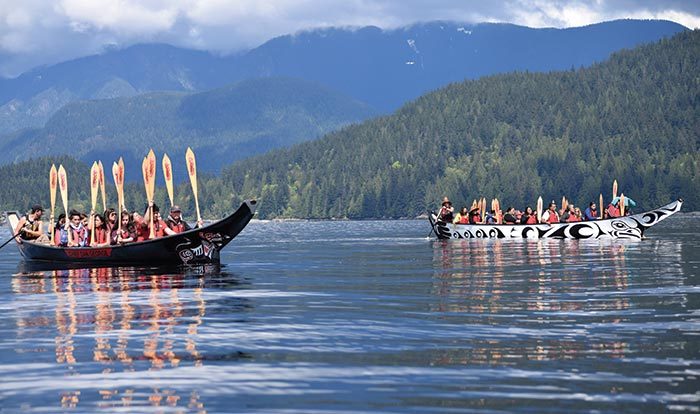 Photos and story by Cara McKenna
Tsleil-Waututh Nation and allies celebrated Mother's Day by honouring the one who has nourished, protected and housed all of us for millennia – Mother Earth.
The community held a water blessing ceremony at Whey-ah-Wichen (Cates Park) on May 14, when dozens of people took to canoes for a prayer and offering in the Burrard Inlet.
The vessels stopped near Kinder Morgan's shipping terminal for the ceremony and to drum and sing.
The nation is currently fighting an expansion of Kinder Morgan's Trans Mountain pipeline from Alberta to Burnaby, which would increase oil tankers in the sacred inlet by sevenfold.
Standing in the former village site onlooking the inlet, community member Rueben George opened the day by honouring all the women who attended from as far away as the Pacific Islands.
Representatives from Pacific Climate Warriors travelled from the Pacific to Canada and toured the Alberta tar sands before concluding their trip at Tsleil-Waututh.
"On Mother's Day, we're going to celebrate and protect what we have. Protect our mother," George said. "What we are as Tsleil-Waututh people. We're people of the water. Right there."
Deborah Parker of Tulalip Tribes added that she sees no greater honour as a mother
herself than to stand up and protect the land and water on behalf of her children.
"We absolutely oppose any more tankers and pipelines to come across these lands," she said.