'We are thinking about our kids': UVic symposium visits T'Sou-ke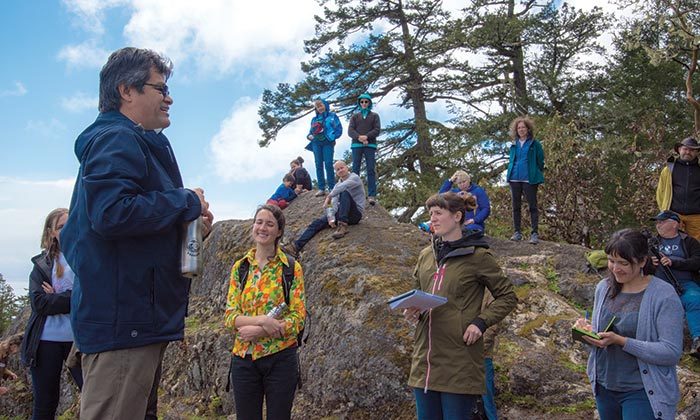 Guests visited T'Sou-ke Nation on May 5 to learn about the community's forward-
thinking ways as part of an ethnoecology symposium at the University of Victoria.
The four-day event was led by Indigenous plant and land use expert Nancy Turner.
Ethnoecology involves the study of how people in different areas understand and interact with environments around them.
After an opening talk by UVic political science Prof. James Tully, T'Sou-ke Chief Gordon Planes gave a presentation and took guests on a hike on Broom Hill.
Planes told guests that he hopes to turn part of T'Sou-ke territory into a tribal park.
"If we think 100 years ahead that means we are thinking about our kids," he said. "Our people will not survive, our culture, our language, unless we have that land-base so that they can practice the way of our ancestors."
Turner thanked T'Sou-ke for hosting the day on their pristine territory.
The first few days of the symposium consisted of events at UVic, including a welcoming reception at the First Peoples' House with Kwakwaka'wakw dancers.