Activists 'not going to be intimidated' after arrests at Kinder Morgan terminal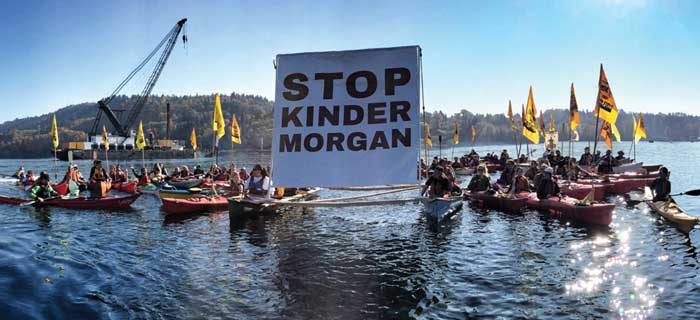 Five activists who are facing charges after disrupting construction at Kinder Morgan's terminal in Burnaby, B.C., are set to appear in court on Feb. 27.
The group was arrested during a flotilla event on Oct. 28, when hundreds of people gathered in Tsleil-Waututh's territory in opposition of the pipeline expansion.
Numerous people took to the water in kayaks and paddled to the terminal to check on what the company was doing, including Karen Mahon, a campaigns director for the group Stand.earth.
Mahon said, as she paddled closer, she saw Kinder Morgan was in the first stages of building a security fence to construct a marine terminal behind.
"I was in my little kayak and there was a private security force screaming 'this is private property. Go away, you will be prosecuted,'" she recalled during a news conference in Vancouver on Oct. 30.
Mahon said she heard the security, but also heard Tsleil-Waututh Elder Amy George saying it was not private property, but her nation's territory, where her family has lived for thousands of years. So Mahon crossed the barrier line and was arrested by RCMP along with four others.
"I believe Amy George is right, and I believe Kinder Morgan is wrong," she said. "In Canada we are calling this the age of reconciliation, well now is the time for Canadians to stand alongside our First Nations friends who are saying that this pipeline will never be built."
Mahon and the other arrestees are now facing mischief charges.
But as their court date approaches, hundreds of people who have opposed the pipeline are preparing for "mass civil disobedience" along the pipeline route, Mahon said. "This protest … is the first of many," she said. "This pipeline will never be built."
Direct action training workshops began in November and will continue on as Kinder Morgan ramps up construction on expanding its Trans Mountain pipeline from B.C. to Alberta. The workshops are being hosted by non-profit groups including Greenpeace.
The project was approved by Canada but has faced mass opposition from local governments, the B.C. government, Indigenous communities, environmentalists and citizens along the route.
Jake Hubley, who was also arrested, said it's a movement of "regular" people including nurses, firefighters and artists.
"For me my willingness to be arrested… means living my commitment to a better world," he said. "We're not going to be intimidated by arrest."
Chief Bob Chamberlin of the Union of B.C. Indian Chiefs said he expects this is the beginning of a much larger movement.
"It's not a small group of radical people trying to stop any development, it's a large group of Canadians who have very deep concern for the environment," he said. "This is not just going to magically disappear on the feet of five mischief charges. This is going to escalate. This is going to be the Standing Rock of British Columbia."