Renewable energy advocates speak at Tsleil-Waututh's 'Yes Agenda Summit'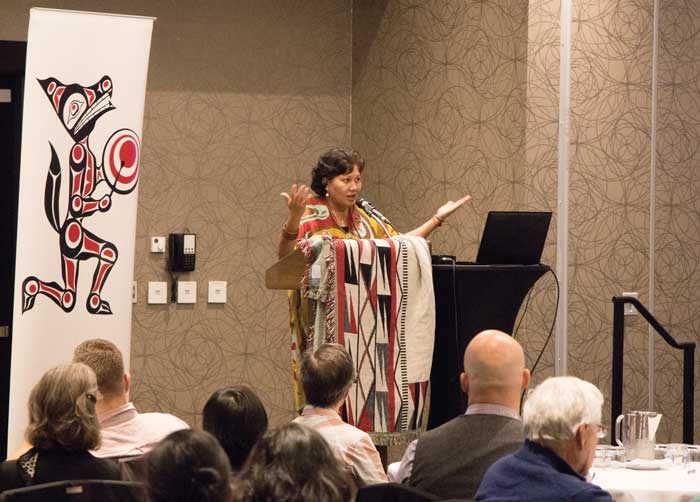 Photos and story by Trevor Nault
Tsleil-Waututh Nation may be saying "no" to Kinder Morgan, but officials from the community are turning that narrative on its head to highlight what they're saying "yes" to: renewable energy.
The community's anti-pipeline initiative, the Sacred Trust, hosted a "Yes Agenda Summit" in North Vancouver on Oct. 24 as a way to highlight the benefits of moving away from fossil fuels.
The event consisted of a panel discussion with experts in the field of renewables, as well as a keynote speech from renowned environmentalist David Suzuki.
Sacred Trust spokesperson Charlene Aleck said Tsleil-Waututh has been criticized for naysaying Kinder Morgan, but the community isn't just saying "no"– they're coming up with alternatives.
"We really wanted a 'yes' agenda," she said. "What is Tsleil-Waututh doing besides opposing this big pipeline expansion project?"
Tsleil-Waututh has been working on various environmental initiatives including an increased use of solar power in community buildings and restoration of the territory – something the nation is now reaping the benefits of.
"Last year and this year, with my daughters, we've had our first clam harvest since 1972," Aleck said to applause.
Prominent activist Tzeporah Berman sat on a panel with Aleck, and said numbers show that people worldwide are showing an increased interest in renewable energy over fossil fuels.
"In the past 10 years, we've gone from five countries with climate policy and renewable energy policies to 168," Berman said. "Since 2004, the annual investment in renewable energy capacity has increased by more than 800 per cent."
She credits the shift away from fossil fuels to rapid changes in renewable energy technology and its plummeting cost.
"You'll be told its not feasible by people who don't want it to happen, but it is feasible, it is happening—faster than we ever thought possible," Berman said.
r Morgan pipeline expansion has faced increasing criticism from activists, municipalities, Indigenous communities and others for its risk to the environment.
The proposed expansion would increase the capacity of the existing Trans Mountain pipeline from B.C. to Alberta and increase tanker traffic in Tsleil-Waututh's backyard by sevenfold.
Oil producers have expressed hope that the expansion, approved by Canada, would help boost sinking oil prices and create jobs.
But panelist Mark Tizya, the owner of Metro Vancouver-based Novo Solar Systems, said a switch away from oil is inevitable. He said he's encouraged by the impact renewable energy subsidies have had south of the border.
Tizya said researchers at the Lawrence Berkeley National Laboratory found all together, wind and solar have saved Americans approximately $88 billion in health and environmental costs over eight years.
"That's just a dollar figure, but if you think about the number of lives that's impacted in the United States, that's pretty amazing," he said.
Suzuki, a veteran activist, said he feels hopeful for the future, as long as people start acting now to help the environment.
"Many of my colleagues are now saying we've passed too many critical points, that it's too late, especially on an issue like climate change" he said. "We don't know enough to say it's too late. It's urgent, yes, but you can't say it's too late."