Tracy Williams: Traditional technology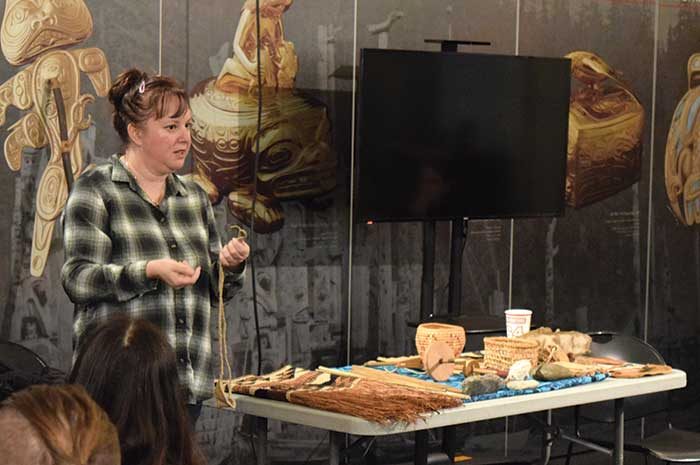 By Cara McKenna
Tracy Williams (Sesemiya) is kind of like a scientist and an artist mixed into one.
She's been described as a "traditional technologist" which seems fitting given the intricate tools and garments she's able to weave using things she's gathered from nature.
Fish skin leather, traditional tools such as fire-starters and baskets are just some of the objects she's created from gathered materials­—not to mention countless experiments.
During an artist's talk at the Bill Reid Gallery in late October, Williams showcased some of her work and spoke about her process.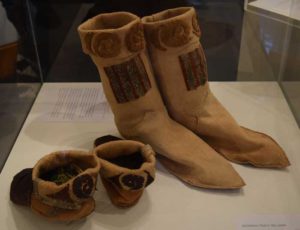 The Squamish Nation member, teacher and mother comes from a long line of basket weavers and has been on a learning journey for a couple of decades.
But she actually got a bit sidetracked from her initial quest to learn weaving, because there was so much more knowledge to find.
"It's funny because one thing that I realize is that everything relates to each other," she said.
"Even just hide tanning and what does that mean, how does that vary between animals? I can do it but I'm not masterful."
She is, however, causing a buzz with some of the work she's done, such as an experiment she recently did with creating fish skin leather boots for her daughter.
Williams said she had an ongoing fascination with fish skins, and decided to tan some using a tree bark solution as an experiment.
When she showed the result to an elder, she realized what she was doing was actually revitalization.
"This elder looked at it and said 'I remember seeing that when I was a kid,'" Williams said.
"I was like, 'tell me more,' because it is not easy to find these things. It's like you're finding these strands of memory from different places."
Williams also has dissected practical knowledge from traditional stories.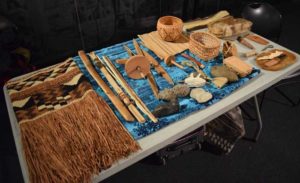 Recently, she said, she came across a legend about a boy who was forlorn, so the sun came and gave him a cloak made of duck skins and squirrel skins.
"As a clothing maker I was totally fascinated. I've never heard of those materials together," she said. "It was said that you could take this cloak and wear it and call the herring to the water. I was just fascinated at the bigger story that was going on here."
Williams has now reached a point in her craft where she feels she can experiment with natural materials and methods – however going back to the land and relearning traditional ways was not an easy process to begin. Perhaps ironically, at first she had to turn to YouTube videos to learn some of the basics. But now, the wilderness is her family's workshop, playground, and grocery store.
"This is something that my husband and my children and I worked on for quite a number of years now, in the beginning it was hard to find teachers," she said. "This is something that didn't happen overnight, of course you underestimate the skills you need."
But Williams said the sometimes-tedious process of figuring out self-identity has been worth it because her children are growing up with traditional methods being the norm.
"It's not easy to be a hunter/gatherer family with the city around you," she said. "(But) I think our kids are going to grow up with a sense of a deep connection to land."
Some of William's pieces will be on display at the Bill Reid Gallery's Intangible exhibition until Dec. 10.