What's next for Snuneymuxw soccer legacy?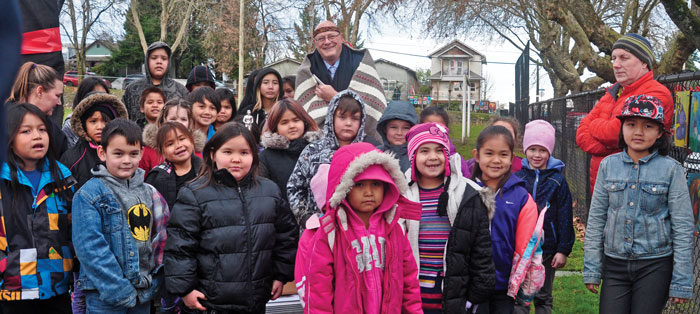 Submitted by Robert Janning
My heart was filled with hope and joy when I found myself gathered in the park, celebrating a very special historic moment, on a chilly December morning.
Not only did we honour the past by formally recognizing a soccer match that was played 125 years ago, we also honoured the future by showing all of the beautiful Snuneymuxw children in attendance that elders from the Manson, Wesley, White, Wyse and other Snuneymuxw families, along with members of the Nanaimo community, the Nanaimo United Football Club, the local media, and provincial and civic leaders are able to come together for a common good.
My hope is that the sign unveiling does not turn out to be the culmination of a journey that began more than a decade ago. Reflecting back on the early days, Gary Manson and I had no idea where this odyssey would take us. The first to join us were members of his family. Soon after, Bill Yoachim, Mike Wyse, Doug White and his father became involved. Andrew Martin inspired the nominations for Harry Manson's induction to four sports halls of fame. These nominations received strong political support, and media coverage that proved to be instrumental in bringing this history to the public's attention. All of the nominations were successful. First in Toronto, then in Calgary, Nanaimo and Vancouver. Last year, Laurie Gourlay inspired the nomination for the Ministry of Transportation and Infrastructure's Harry Manson "Stop of Interest" sign. Sadly, Laurie passed away late last year.
So what comes next? During this journey, the Grand Challenge Cup of the Nanaimo Football Association—1891, a trophy that predates the Stanley Cup by one year, and which was emblematic of the British Columbia soccer championship from 1892 to 1904, was acquired and restored through the donations of many who believed in the importance of preserving the oldest provincial/national sports trophy in Canada. This was the trophy captured by the 1903 Nanaimo United team, which featured three Snuneymuxw players: Harry Manson, Joe Peters and Louis Martin. Judging by the attention this trophy received yesterday, it is obvious that the Challenge Cup needs a permanent home. A permanent Nanaimo home! The Challenge Cup also needs to be put up for competition, as that is its raison d'etre.
Would it not be great to watch the power of the Challenge Cup attract a team of Snuneymuxw children and a team of children whose fathers compete for Nanaimo United, play an annual match at Deverill Square Park, just like the game that was played there 125 years ago? And would it not be great to have the Challenge Cup put on display in a prominent Nanaimo location throughout the year, for all to see? Would it not be great to see an institution willing to support such an undertaking?
I would like to express my heartfelt gratitude to all who celebrated the sign unveiling as we look toward the future in 2018.