Kwantlen guides teach through Salish stories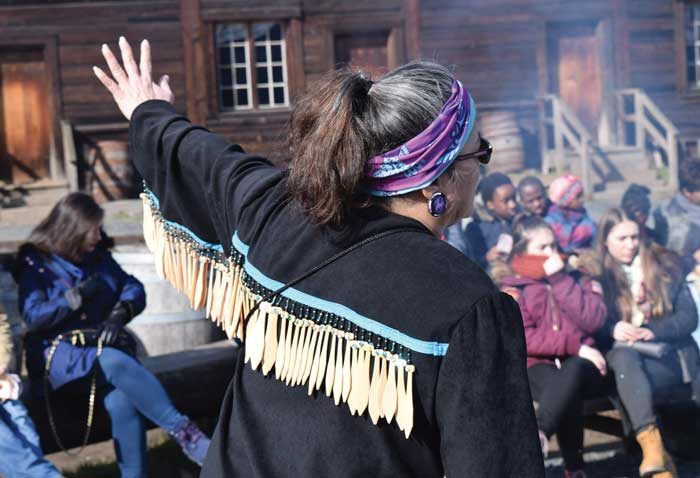 Standing in front of a blazing fire, Kwantlen Nation storyteller Fern Gabriel (Sesmelot) shared the story of how salmon came to her people with about two dozen guests at what's now known as the Fort Langley Historical Site.
The story involves two brothers who came across the Salmon People's village during a journey, and participated in a feast there.
After the feast, a leader from the village tells everyone to put the bones back into the river. Those bones transformed into salmon, then into people.
The Kwantlen people asked the leader for the salmon to come to their territory, and were told to hold a feast much like the Salmon People did for them, and to put the bones back in the river.
That would become the first salmon ceremony.
"So the Salmon People sent the Kwantlen brothers home with a good mind and a good heart, and a full belly," Gabriel said. "I like those kinds of people," she added with a grin, to the group's laughter. "Feed me and I'm your friend for life."
Fern and her nephew Brandon Gabriel (Kwelexwelsten) were speaking on a Saturday in March as part of Indigenous education events held every week at the Fort during that month. The events were part of an effort to show people the Indigenous culture and history of the area rather than just the colonial side.
By sharing teachings such as to treat the river with respect, and about the importance of
salmon, the Kwantlen members hope that the public's respect and knowledge around their community will grow.
Fern and Brandon also host hour-long tours of Kwantlen's land near Bedford Landing with Port Metro Vancouver.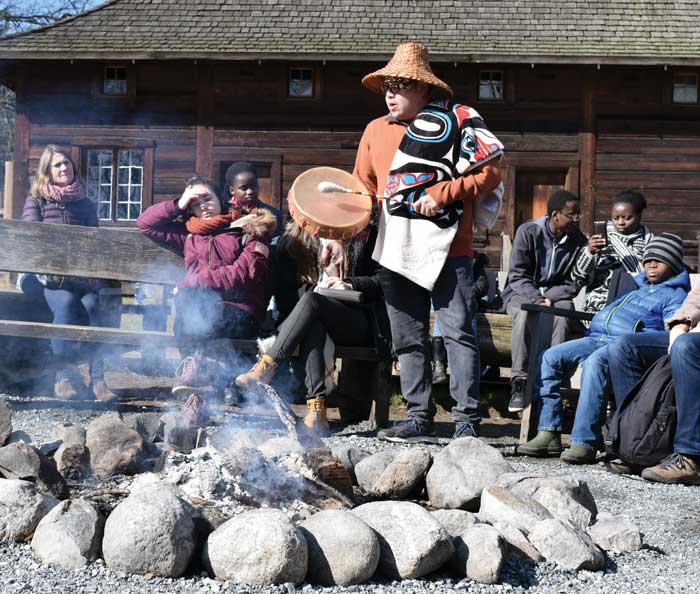 Brandon said it feels like a "miracle" to share the stories with the public, especially kids, after so many years of not being able to because of colonization.
But he said there are challenges—one being that some Fort Langley staff wear colonial period costumes, and so members of the nation must explain to guests that their paddle vests and
cedar hats are not costumes, but an important part of their existing culture.
"We are asserting that our culture is still continuing and still developing and still has a place on this land," Brandon said.
Fern is a well of knowledge about Kwantlen territory and has multiple degrees in history,
education and language. She also teaches Hul'qumi'num.
Fern said there were many dark years for her community when stories and songs weren't being shared, and so she is grateful for all the people who helped to bring them back.
"The song didn't come until the Chehalis people came and helped with that. I always want to acknowledge them," she said. "I always acknowledge the elders who taught me stories as well."
She said she lived in Musqueam for about a decade, and learned from the late Adeline Point, the late Bob Guerin, and Elder Larry Grant.
She also credits the late Ray Silver of Sumas and the late Mel Bailey of Katzie.
Brandon, who personally studied anthropology, history and fine art in university, said it's an ongoing education for him to listen to his aunt's stories —no matter how many times he hears them.
"I always get lost," he said. "It's really emotional for me to listen to it. It's always different; it's always reaching my ears in a different way."