Stz'uminus-carved 'Salish Wind' canoe acknowledges shared history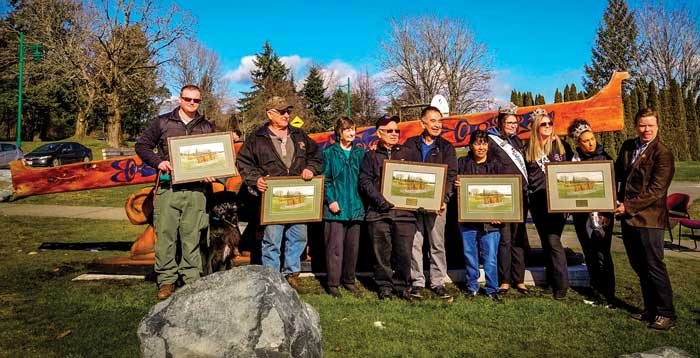 The Stz'uminus-carved Salish Wind canoe was dedicated during an event for Heritage Week where members of the nation came together with representatives from the Town of Ladysmith to recognize their shared history.
The red cedar canoe was built by Stz'uminus master carver Manny Sampson with help from his brother Elmer and painted by artist Edward Joe.
The canoe was first unveiled during an event at Stz'uminus last December. It now sits at Transfer Beach on a base designed and carved by Dan Richey.
Ladysmith Mayor Aaron Stone gifted a framed picture of the canoe to Stz'uminus and said the canoe is symbolic of the nation's long history on the land, and their shared history with the town after colonization.
Stone said the two parties must learn from their past to move forward in a better way.
"It was representative of bringing our communities together," he said during the event on Feb. 24. "This not only reflects and respects (our) heritage but also points to a brighter future together."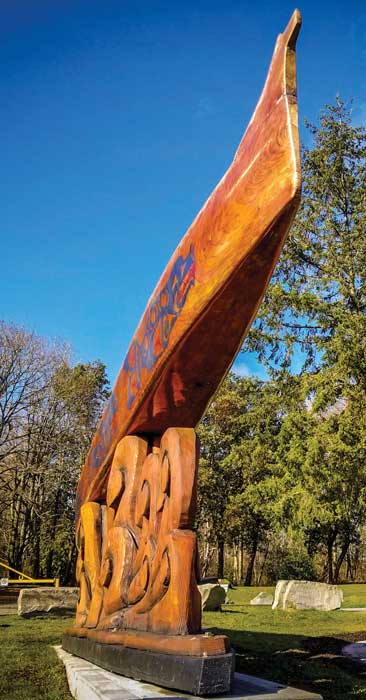 Manny Sampson was not able to attend the event, but other Stz'uminus members including Terry Sampson and Elder George Harris spoke on behalf of the nation.
Harris shared some history about the lands, and acknowledged carvers Manny and Elmer.
"Manny and Elmer are great men," he said. "Our canoe builders are great men."
Harris said, though, that he is concerned for the future of canoe building at Stz'uminus, because there are currently only about three or four builders in the community.
"Right now I'm worried about canoe building, because no younger people are taking it up, with the exception of Manny's son," he said.
While the Salish Wind was being carved over six months, members from the nation along with others from Ladysmith had opportunities to participate in the effort and to learn about the
process.
The project began as a result of a partnership between Stz'uminus and Ladysmith as part of Canada 150.