Strong children: Snuneymuxw breaks ground on new school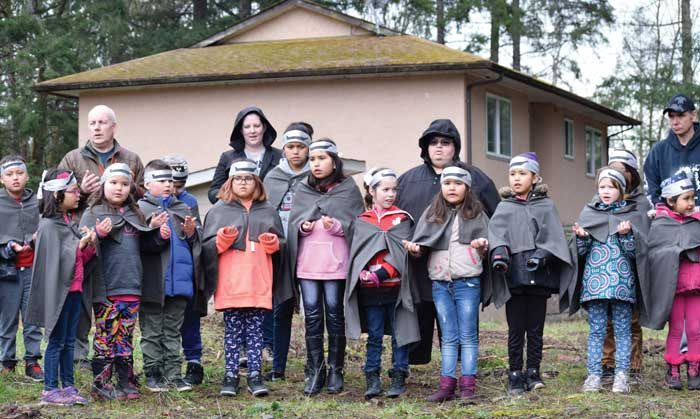 After two decades of planning, Snuneymuxw First Nation has broken ground on a new, larger school on its reserve lands in Cedar.
The site for the new Qwam Qwum Stuwixwulh School has been blessed and a groundbreaking ceremony took place March 13.
The federally-funded $11 million facility, set to be completed by April of 2019, will replace the current school on its Nanaimo reserve that opened two decades ago and has become too small.
The new facility will be about three times larger than the old school at 1,814 square metres.
Qwam Qwum Stuwixwulh (meaning "strong children") follows ministry guidelines while incorporating culture, language and other Coast Salish teachings.
Principal Roxanne Harris, who is also a councillor with Stz'uminus First Nation, said the larger facility will allow the school to take on about twice as many students.
There are currently 56 students attending from Preschool to Grade 7.
"We're looking at doing a bit of a recruiting next year, like the kids in town or our neighbouring communities here," Harris said. "It's not going to just be open to Snuneymuxw children. It'll be open to the broader community as well."
During the groundbreaking, children from the school sang a song in Hul'qumi'num and members of the nation spoke to guests and witnesses that included Snuneymuxw employees and members of the local school board.
Councillor Doug White II (Huncowiyus) said that the changes that the community has gone through in his lifetime is "incredible."
"We've gone through, a number of us on the reserve, what was called Indian Day School," he said. "We've transitioned quite a way from that day to today…We now have doctors, lawyers, and this is a fantastic time in our lives here today."
Councillor Emmy Manson also shared that she has high hopes for the next generation.
"They can stand here and sing a song, where when I was with elementary school, we couldn't do that," she said. "I know our culture is rising up and I'm really proud of (everyone who) made this happen."
The new Qwam Qwum Stuwixwulh School is part of a broader expansion of services for Snuneymuxw on its land in Cedar, including a new health centre that's currently under construction and new homes.
There's a new Lacrosse field just down the road from the new school, and Harris said that a new high school across the street is now in talks.
"We're just looking at becoming a hub for Snuneymuxw," she said.