Snuneymuxw River Story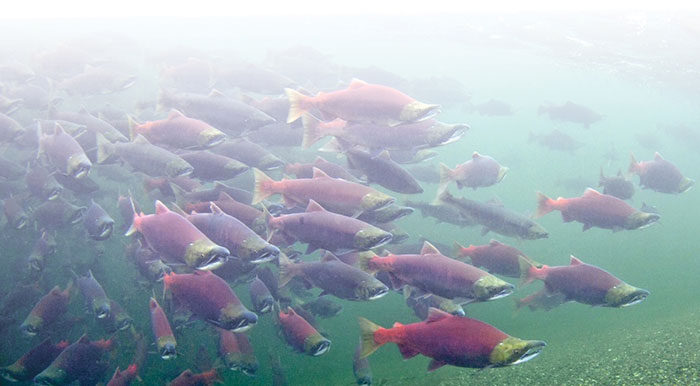 Told by Celestine Aleck (Sahiltiniye) of Snuneymuxw First Nation
Long ago, there was a time when we never had any sockeye in Nanaimo River, so the Thunderbird, Eagle, Otter, Mink and Beaver all got together to decide how we would get sockeye into our river.
Eagle said that they would go to the richest place that has the most sockeye, which is Port Alberni, and that he and Thunderbird would host a fake meeting with the Salmon People.
"While we host this fake meeting," he said, "we know that the children will be somewhere else, because children will want to play and talk."
So Eagle asked Mink, Otter and Beaver to find out where the children were, and said to take one, and then take a different route all the way back to Snuneymuxw.
He told them: "When you get to Snuneymuxw River, you go up and down that river as many times as you can, and than you hide the baby and we will catch up to you later."
They all agreed to go and made their way to Port Alberni. Eagle and Thunderbird approached the Salmon People and said: "We need to host a meeting, we had a vision and need to talk to you."
So all the Salmon People went and brought their children somewhere else, and came back for the meeting. When the meeting began, Eagle told them: "We had a vision of people coming from all around the world to fish you off and kill you for sport. We think that some of you should leave."
All the Salmon People were so worried that they didn't know what to do. They all looked to the King Salmon and asked: "Who stays and who leaves?"
As the meeting was taking place, Mink, Otter and Beaver found the children, stole one child and made their way back to Snuneymuxw. Meanwhile, Eagle and Thunderbird dragged the meeting on as long as they could and Eagle said to the Salmon People: "We just wanted to make sure we shared our vision with you, we will let you decide who is to leave and who is to stay, and we will go on our way."
The Salmon People thanked the Eagle and Thunderbird for taking time out of their lives to share this vision. As Eagle and Thunderbird made their way home to Snuneymuxw, they began carving in the rocks, telling the story of how we got sockeye in our river. There are salmon petrogylphs on Saysutshun (Newcastle Island), Protection Island, Tlaaltxw (Gabriola Island) and up Snuneymuxw River.
Eagle and Thunderbird caught up to Mink, Otter and Beaver and had asked if they hid the baby salmon and they said yes. Eagle said: "OK, don't tell us where the child is, and just split up and go about your day."
Finally, in Port Alberni, all the Salmon People decided who was going to leave and who was going to stay in Port Alberni. They all went to get their children and noticed one was missing, so they had followed the scent of the child all the way to Snuneymuxw River.
The Salmon People had gone up and down the river so many times looking for the child that they had lost the scent. All the Salmon People were worried for the child being all alone, that they again looked to the King Salmon and had asked: "What do we do?"
The King Salmon said: "We shall lay eggs so that this child has someone to play with, and we will come back every year after so that the child is never alone."
And that is how we had gotten our sockeye in Snuneymuxw River.
Celestine is a published writer/illustrator who considers herself very fortunate to have learned some of the rich stories of Coast Salish territory from her elders. She can be contacted at celestinea@snuneymuxw.ca.