Dr. Lorna Williams gives keynote at VIU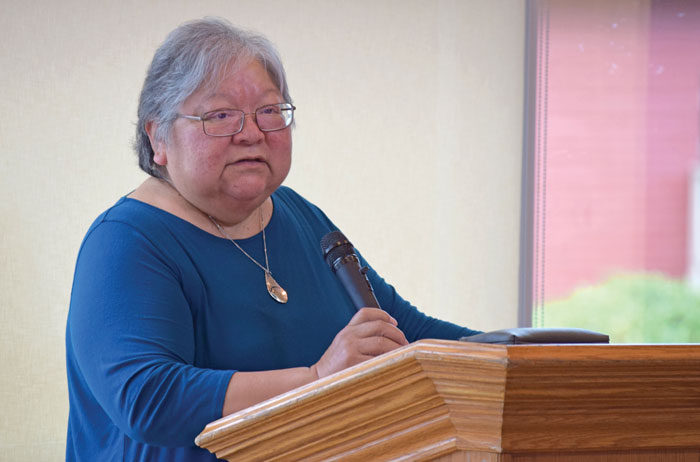 Educators took advice on incorporating Indigenous languages into their classrooms during a keynote speech at Vancouver Island University on May 29.
Dr. Lorna Wanosts'a7 Williams of Lil'wat Nation talked about the importance of decolonizing schools during a special evening event at the t'uxusthumpsh Indigenous language symposium.
Williams has spent her career revitalizing language and culture within the education system and her own community.
She told a group that included school district representatives, K-12 teachers and university officials that educators must ask themselves what they can do to support language revitalization.
"The first thing that I would like to ask you to do is to learn about the Indigenous languages of the land your district serves, that your school serves," she said. "Our languages were destroyed because of education. They have been marginalized because of the way that education in this country is structured. The only way that we can begin to be able to address this is if we work together."
Williams has been working to incorporate Indigenous knowledge into classrooms long before it became a curriculum requirement in B.C. in 2016. In 1973, she was part of opening the second band-run school in Canada in Mount Currie, where she worked to develop an innovative curriculum that meshed Lil'wat and Euro-Canadian knowledge together.
She also led the development of degrees in Indigenous Language Revitalization and Counseling in Indigenous Communities at the University of Victoria, along with a mandatory course in Indigenous education for teaching students.
Williams was recently honoured with a 2018 Indspire award for her work in education.
Williams said throughout her career, she has seen firsthand the impact that learning language can have on youth.
"When young people learn their language, learn the beauty of their language, it just gives them so much strength," she said. "But it can only happen when young people have somebody to talk to, share with, learn with, learn from. That's why schools need to …think about education as being lifelong, community wide and land-based."
Williams also spoke about the fact that Canada's more-than 60 Indigenous languages must be recognized as having value—something that hasn't been the case for much of the country's recent history.
She said languages are born from the land and thus are key to keeping that land and the people on it healthy and thriving.
Williams said that also means that Indigenous language students must get back to nature.
"I have watched young people learn their language out on the land and…I can see there's such a deep hunger to reconnect those relationships," she said. "Culture and identity is an important part of this work. That's why it's important that our worldview has to be a part of the way that we deliver the language services."
Williams concluded by saying that school districts trying to Indigenize their curriculums also must find ways to learn from the Indigenous language speakers who have been fighting to keep their languages alive.
"We have to really be sure that we're not going against the Indigenous worldview of the people we are serving," she said. "Not only do we all need to work on decolonization and decolonizing our practice, we must also really learn the people of the land. Their ways of being. That must be reflected in what we teach and how we teach."