The Elder Project: Agnes Padilla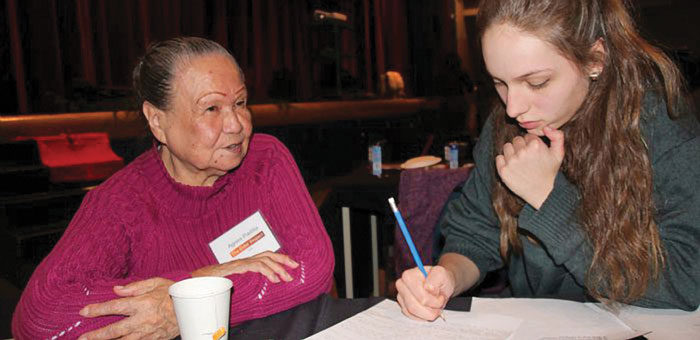 By Beatrix Taylor, Ladysmith Secondary School
Students in the Nanaimo-Ladysmith school district recently interviewed Vancouver Island elders and wrote poems about their lives for two recently released poetry books. The initiative was part of The Elder Project, an effort started by renowned poet Wendy Morton as a way to connect elders with local students.
The poem below about Snuneymuxw Elder Agnes Padilla originally appeared in the book
'The Rivers Where We Sing' and is reprinted here with permission. More poems can be viewed at www.theelderproject.com.
I am from Snuneymuxw, raised by my dad's mom.
My dad married twice, survived residential school.
My grandmother taught me.
I went hunting and clam digging with my dad.
Every word out of my mouth was "why?"
My grandmother called me "why" in our language.
I had two brothers I never knew, and three I looked after.
My grandmother told me we're all equal to everybody.
I lived in Nanaimo, a small house and one big room.
Our life was hard, but it wasn't.
We ate from the ocean, the mountains: oysters, clams, duck, deer, elk.
I never played games, I didn't have time.
I went to school on the reserve.
We didn't learn fast enough for the teachers.
I only went to the third grade.
I got married when I was 19, had four boys.
I became a single mother.
I worked on a berry farm.
Then I put myself through school, got a job in electronics, building computers.
I held down three jobs.
I watched all my sons grow up
and finish their education.
My head swells up when I talk about them.
Now, I teach my language.