'Blanket exercise' hosted at Tla'amin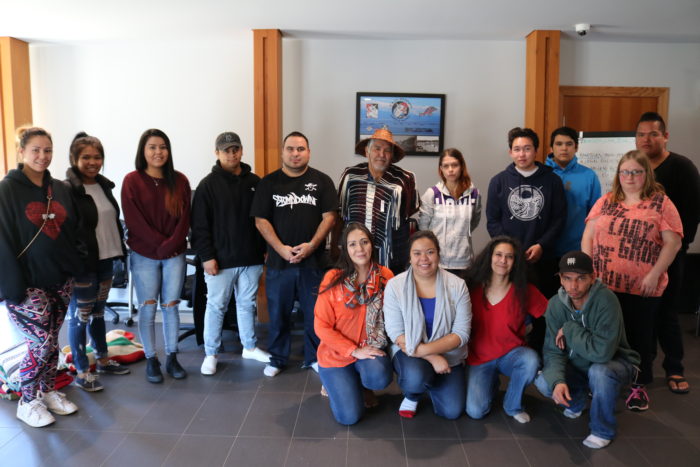 By Devin Pielle (Koosen)
Photo by Phil Russell
Tla'amin Nation facilitated a "blanket exercise" for approximately 15 people on Oct. 4, giving participants a chance to reflect on the hard truths of colonization.
The blanket exercise is an experimental workshop that covers Indigenous history from contact to today. The exercise was facilitated by myself, Lisa Wilson and Zoe Ludski. The elder support was Randy Timothy Sr.
The workshop began with blankets being laid on the floor, representing Turtle Island (Canada) pre-contact. Throughout the 45-minute workshop, the facilitators walked participants through Indigenous history – a history that has only started being shared. Over time, participants saw the blankets break apart and dwindle in size. This is symbolic of our land being taken away.
For myself, partaking in this workshop helped me see the bigger picture. When you understand colonization from the very beginning, it helps to understand our communities better. Why we are the way we are, why things are the way they are. You cannot break a cycle until you know it is there. Everyone deserves to know the exact truth of what has happened to us. We need to understand our own resilience in order to regain our strength. Until we understand our parents, grandparents, great grandparents better – there can be little to no healing.
Following the 45-minute exercise, there was a talking circle. This is for participants to share what they felt, learned, or who they were thinking of while learning this history. The talking circle is just as important as learning the information firsthand. After the talking circle, each participant is brushed off by our elder.
If you are interested in booking a blanket exercise workshop, you may contact Koosen Pielle at taxumajehjeh@gmail.com, or visit their website at https://taxumajehjeh.ca