Record-setting Snuneymuxw runner recognized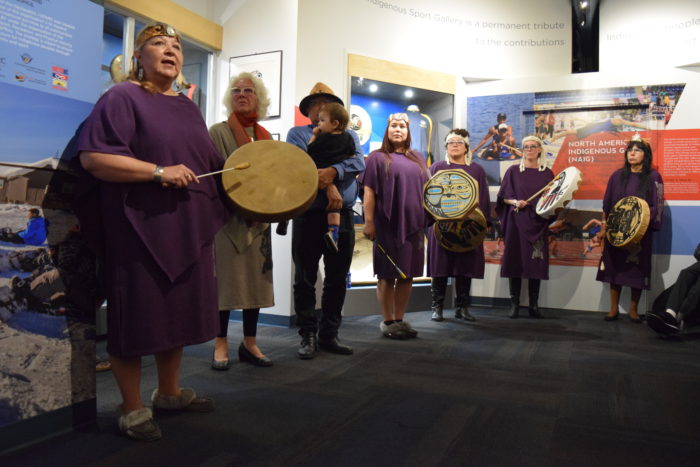 Above photo: Members of the Good family led guests into the new Indigenous Sports Gallery on Sept. 25.
In 1898, Snuneymuxw runner William Good (Skinahan) is said to have set a world record for the 440-yard dash. 
According to the B.C. Sports Hall of Fame, Good travelled to San Francisco to compete in the race and won in record time — giving him the title of "the Fastest Man in the World" at the time. 
However because of discriminatory rules, Good's title was taken away when judges found out he was Indigenous, and he was never formally recognized. 
But on Sept. 25, Good finally received recognition during the opening of a new permanent Indigenous Sports Gallery at the B.C. Sports Hall of Fame in Vancouver. 
A group of Good's family members, including his grandson and namesake Elder William Good (Tseskinakhen), led a group into the new gallery while drumming and singing.  
The younger Good was raised by his grandfather, and described what an impressive athlete he was. 
"He was only about 5' 4, and his stride was about 10 feet," Good recalled. 
"They say he ran like a deer. He was such a powerful runner." 
Good said finally seeing his grandfather get recognition in the new gallery recognizing Indigenous athletes is "monumental" for his family and all of Snuneymuxw.  
Another Snuneymuxw athlete, soccer player Harry Manson, is also among those featured in the gallery's more-than 1,000 square feet of exhibition space. 
A number of other First Nations and Métis athletes are also honoured including Tsawout softball player Reg Underwood and Squamish boxer William Nahanee (Kwel-a-nexw). 
Jim Lightbody, chairman of the B.C. Sports Hall of Fame, said officials from the hall and its partner organizations wanted to celebrate a long tradition of Indigenous sport.  
"Historically Indigenous stories have not been properly celebrated and honoured in our province, and that needs to change," he said. 
"The stories are incredibly important because they inspire youth from all backgrounds across B.C." 
Tewanee Joseph, a board member for the B.C. Sports Hall of Fame and member of Squamish Nation, gave a special acknowledgement to the Good family for sharing the special occasion. 
"When we all come together it's amazing what can happen," he said. 
"When (William Good) won the 440-yard dash and they found out he was Indigenous, they denied him his victory. But not today. He's celebrated in our hall."