Feds to forgive, reimburse $1.4 billion in treaty loans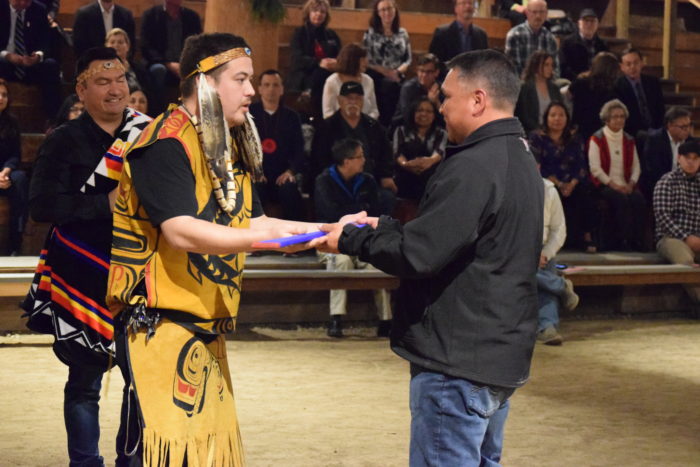 Photo: Bryce Williams of Tsawwassen Nation, left, and Tla'amin Hegus Clint Williams exchanged gifts during Tsawwassen's 10-year treaty celebration on April 3.
B.C. First Nations that have gone into debt with Canada to negotiate modern treaties will soon no longer have to worry about repaying that money.
The federal government announced in its 2019 budget that it will forgive all outstanding treaty negotiation loans.
Canada will also reimburse Indigenous governments who are repaying, or have repaid, their loans.
The total amount being forgiven or reimbursed is a massive $1.4 billion — of that, $938 million is being dealt with by March of 2020.
A media release from the Alliance of BC Modern Treaty Nations welcomed the budget announcement.
The group of governments from the Tsawwassen First Nation, Tla'amin Nation, and the five Maa-nulth Nations had been advocating for treaty loan forgiveness, saying it's a matter of fairness.
Bryce Williams, the outgoing chief of Tssawwassen First Nation, said the budget announcement comes after many years of engagement with the federal government about the loans. Tsawwassen's final agreement came into effect in 2009.
"It has long been our position that negotiation debts are an unjust financial burden, at odds with the spirit and intent of our modern treaties," Williams said.
"The Tsawwassen First Nation Final Agreement does not just benefit Tsawwassen First Nation. It is a benefit to all Canadians. As such, it never made sense for us to shoulder a debt burden for working to advance a truly equal relationship."
For Tla'amin Nation, as an example, that means the nation will no longer have to worry about a treaty loan that exceeds $11 million — instead, the money can instead be reinvested back into the community.
Treaty negotiations can take many decades to complete, and the debts incurred range from $2 million to $80 million, according to a separate media release from the Land Claims Agreements Coalition.
The funding will reimburse more than 200 Indigenous communities and governments.
"Since concluding negotiations, some treaty-holders had managed to repay the loans at the expense of other pressing needs," the statement from the Land Claims Agreements Coalition said, in part.
"Reimbursement of these funds by Canada presents a welcome opportunity to invest in a multitude of high-priority projects on the ground in modern treaty communities."
More information and details about the federal budget can be found at www.budget.gc.ca.