Langara College rebrands to include Musqueam name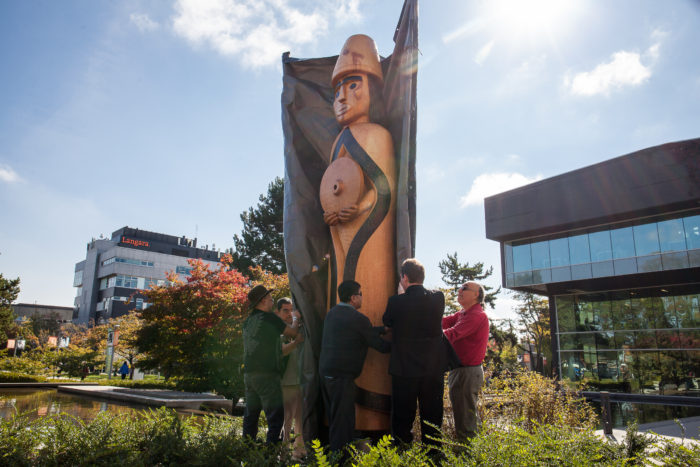 Photo: A welcome figure was unveiled on campus in September. Courtesy of Langara.
Langara College has officially incorporated a Musqueam name that was gifted to the school in 2016 into its title and branding.
The school in South Vancouver officially switched to the dual name "snəw̓eyəɬ leləm̓ Langara College" during a ceremony in mid-April.
The name snəw̓eyəɬ leləm̓ was bestowed on the school during a ceremony led by the late Siem Henry Charles of Musqueam in January 2016.
The title means "house of teachings" in hən̓q̓əmin̓əm̓ and refers to the advice that's given to a child to build their character and to guide them into adulthood.
Langara sits on a former Musqueam village site and it has partnered with the nation in recent years to increase the community's presence at the college.
Vanessa Campbell of the Musqueam Language Office said the hən̓q̓əmin̓əm̓ name is an opportunity for Musqueam to share its culture and language with the wider community.
"It's about acknowledgement, and creating opportunities for deeper understanding of Musqueam people, our presence in this territory, and our ongoing connection to these places we have called home for so many generations," Campbell said in a media release.
Langara president and CEO Lane Trotter said it was important to fully incorporate the gifted name into the school's institutional identity.
In order to fully make the switch, Langara introduced worked with a type designer from the company TypeTogether to create a character extension for the college's main font that includes hən̓q̓əmin̓əm̓ language characters.
"Given our campus location on what was once a Musqueam village, it was important for us to honour the gift of the name snəw̓eyəɬ leləm," Trotter said.
"This work is the next step in our continuing relationship with Musqueam, and we hope it will help Indigenous students feel even more welcome on our campus."
In September, a Musqueam welcome figure by Brent Sparrow Jr. was unveiled on campus as a way to welcome visitors to the nation's unceded territory.
The red cedar carving depicts a figure wrapped in a blanket, holding a spindle whorl to represent the passing of knowledge to the next generation. 
Trotter said the post was also a way to honour the passing of Siem Henry Charles after the elder granted the college with its Musqueam name three years ago. 
"The plaque at the base of the house post will acknowledge, in perpetuity, the contribution that Henry made to Langara College and our relationship with the Musqueam," Trotter said in an earlier statement.