Orca relatives bless annual TWN canoe festival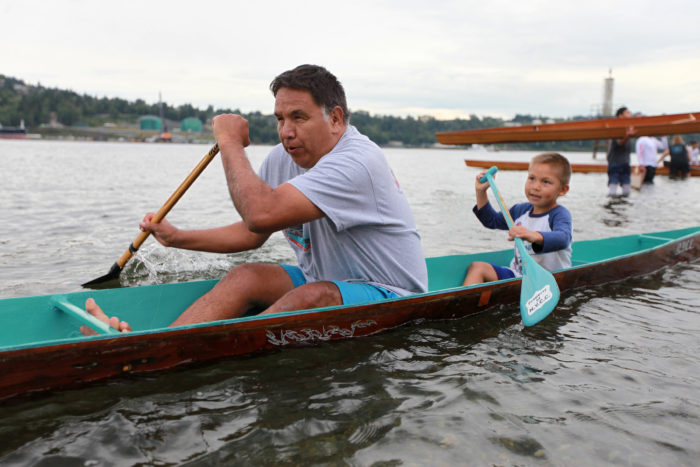 Photo: Dozens of families, including some grandparents and their grandkids, took part in the inter-generational pairs race, which brought 40-and-older paddlers together with under-sevens to compete.
As hundreds of paddlers from all shores of the Salish Sea pushed themselves during three tiring days of canoe races at Tsleil-Waututh Nation, the crowning blessing was a pod of orcas surfacing just offshore.
Racers and supporters onshore cheered as the killer whales appeared just metres away in the Burrard Inlet during the second-to-last night of the community's annual Whey-ah-wichen Canoe Festival from June 28 to 30.
The annual event included teams from Vancouver Island, Washington, the Greater Vancouver area and the Fraser Valley.
"It's a blessing for our waters and our family," announced Gabriel George, Sr., who emceed the event alongside Phil Lockerbie, as onlookers applauded with delight.
Races included both single, pair and canoe team competitions of women's, men's and over-50 masters, as well as 16-and-under, 13-and-under, and 10-and-under — plus intergenerational pairs — competing for cash and prizes.
But it was Saturday night's appearance of the orcas in the Burrard Inlet that left many of the event's Tsleil-Waututh hosts — whose name means "People Of the Inlet" — with an extra sense of pride and gratitude. The killer whales surfaced just as seven-and-under racers faced off and as the family category teams were entering the water, many of them having camped out and feasted together the entire weekend in the park.
"I feel so blessed to have had this time with all our visitors, including our Black Fish relatives at Tsleil-Waututh First Nation," wrote Tsleil-Waututh's community development director on Facebook. "All of the good canoe energy and prayers brought a blessing on us."