May 29, 2017 | Cara McKenna
Above: Canoeists paddle near the Kinder Morgan terminal for a water ceremony on May 14.
By Cara McKenna
Tsleil-Waututh Nation is warning potential investors about legal and political risks associated with Kinder Morgan's Trans Mountain pipeline expansion before shares … Read More
April 20, 2017 | Cara McKenna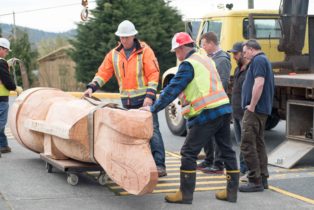 Above: A rough cut red cedar is delivered to Ladysmith Secondary on Wednesday, April 19. Photo by Tricia Thomas. 
Students at Ladysmith Secondary School will continue an education about Coast Salish culture with a newly delivered welcoming pole. The red cedar being … Read More